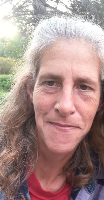 Stephanie A. Donovan
Stephanie A. Donovan
Stephanie Donovan, age 54, of Summit Twp., passed away after a brief but heroic battle with Cancer on Saturday, March 18, 2017. Stephanie was born in a taxi cab in Bradford, PA on December 28, 1962 to Richard E. and Margaret M. Deasey Donovan of Summit Twp. She grew up in Erie with three brothers; Richard J. Donovan (Michelle) and their two children; Victoria and Christina, Michael Donovan and his wife Cheri Jackline Donovan, and Terrance Donovan, and a caring cousin Patricia Hall (Craig).
She is also survived by one daughter Lisa Kasbee, who will be forever her "little bear", her son-in-law Ryan Kasbee whom she shared many laughs, two grandchildren Blake and Lillian Kasbee who she loved more than anything in the world.
Stephanie enjoyed walking in the woods, camping, fires, pigging out with her family, taking spontaneous road trips with her mother and sister-in-law, Cheri, and digging in the dirt looking for treasure with her brother Michael. She loved to make up new words and most importantly spending time with Blake and Lillian.
Welcoming her to eternal life with her heavenly Father are her grandparents: Elmer and Dorothy (Young) Donovan, James and Grace (Plummer) Deasey, an amazing aunt Anne Hancock, an amazing uncle James Deasey, and an amazing cousin David Wolfe. Friends may call at the Dusckas-Martin Funeral Home and Crematory, Inc., 4216 Sterrettania Rd. on Tuesday, March 21, 2017 from 3 p.m. until 8 p.m. and are invited there on Wednesday, March 22, 2017 at 10:00 a.m. for the Funeral Service. Interment Laurel Hill Cemetery.
In lieu of flowers or monetary donations, Stephanie would ask that you take a moment or two to close your eyes, take a deep breath, let the sun beat down on your face and surround yourself with the love from your family and friends.