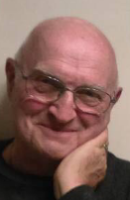 Nelson Charles Schaffner
c
Nelson Charles Schaffner, who passed away on April 28, 2017, was more than a husband, father, son, brother, uncle, grandfather and great-grandfather. He was born in a small town, Brookville, PA on February 22, 1943, but lived a life larger than measure. Nelson was beloved by every person and animal who had the privilege of knowing him. He touched many lives during his decades of teaching at the Erie County Technical School and working in manufacturing. Most recently he came out of retirement and was employed part time at Machining Concepts.
He is survived by his soulmate of 46 years, Janet VanScoyoc Schaffner; their four children, Kimberly Wilkosz, John (Marcia) Schaffner, Nelson (Jacqueline) Schaffner and Elizabeth (Aaron) Pifer; eleven grandchildren, Mark G. (Michelle) Wilkosz, Jason (Kimberly) Wilkosz, Kerri Wilkosz, Anthony Visalle, Nathan Schaffner, Matthew Schaffner, Gabrielle Freeman, Harrison Schaffner, Aidan Pifer, Ethan Pifer and Violet Pifer; five great-grandchildren, Lexie Prozan, Daniel Wilkosz, Emma Wilkosz, Daenerys Sulecki and Theon Sulecki; one sister Betty Jane (George) Barnwell of Piedmont, AL and many nieces, nephews and cousins.
The empty space he leaves is immeasurable but his legacy will live on in all our hearts. Nelson preferred everyone to celebrate his life and not dwell on his death. No viewing or services will be held. The family will scatter his ashes at his favorite place, the third generation Schaffner Homestead. Arrangements were under the care of the Dusckas-Martin Funeral Home & Crematory Inc. 4216 Sterrettania Rd. Erie, PA 16506.