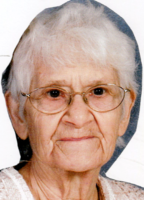 Susanne J. Roesch
Susanne J. Roesch, age 87, of Edinboro Manor, went to be with her Lord and Savior on Thursday September 28, 2017. She was born in McKean on March 4, 1930, a daughter of the late Frank and Alma Bolte Otteni.
Susanne was a very kind and gentle woman. She loved music and was a member of her church's choir at St. Peter's Lutheran Church. Her greatest love and joy was her family and being involved with her grandchildren and great-grandchildren
In addition to her parents, she was preceded in death by her husband of 65 years, Willis Earl Roesch in 2013; four brothers, Roy, Bob, Jim and Pete Otteni, and four sisters, Hazel Platz, Ruth Wurst, Thora Wurst and Inez Jackson.
She is survived by her son, Larry R. (Diane) Roesch of Erie; two grandsons, Larry W. (Shelly) Roesch of Erie and Jeff R. (Karin) Roesch of Henderson, NV; four great-grandchildren, Mariah, Laurna, Nikki and Amanda and many nieces and nephews.
Friends may call at the Dusckas-Martin Funeral Home & Crematory Inc. 4216 Sterrettania Rd., on Saturday from 11:00 AM, until the time of the funeral service there at 2:00 PM. Interment will follow in Laurel Hill Cemetery. Memorial contributions may be made to St. Peter's Lutheran Church, 3968 Hershey Rd. Erie, PA 16506.