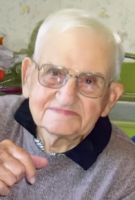 Claude Allan Pratt
Claude Allan Pratt
Claude Allan Pratt, age 95, of Millcreek Twp., passed away on Monday, November 13, 2017 at St. Vincent Hospital. At last he'll be in Heaven where he will be relieved of all pain.
He was born on August 7, 1922 in Erie, the son of the late Roy and Prudence M. Howard Pratt. Claude was a graduate of Strong Vincent H.S. and served in the US Army during WWII. He was employed at and retired from Kaiser Aluminum after decades of service. On December 15, 1946, he married the love of his life Betty Ohman Pratt at Grace Lutheran Church and they were married for 71 years.
They continued to live in the Millcreek home which they built together by hand in 1948.
Claude's passion was rebuilding and restoring older model cars and trucks. He also played on a golf and bowling league. Friends knew to never begin a conversation about politics. He kept a close eye on the meets of members of the McDowell Cross Country Team which had been coached by his son Jay for 40 years.
Besides his parents he was preceded in death by two brothers Merle and Wilbur Gibbons and one sister Mable Vaugn. He is survived by his beloved wife Betty J. Ohman Pratt, his children: Claudia Pratt Wiencek of Tavares, FL, Jay Pratt (Laura) of Millcreek Twp., Linda Szkotnicki (Tom) of Hampstead, NC, his grandchildren: Amy Wiencek Popeck, Matthew Wiencek, Lee Szkotnicki (Cortney), Greg Szkotnicki, Casey Pratt, Kevin Pratt (Elizabeth), Brian Pratt (Jen), great-grandchildren Allyson and Erin Popeck and Evelyn Pratt.
Friends may call at the Dusckas-Martin Funeral Home and Crematory, Inc., 4216 Sterrettania Rd. on Thursday, November 16,2017 from 3:00 p.m. until time of service there at 7:00 p.m. Private interment.
In lieu of flowers, memorial contributions may be made to the West Ridge Fire Department, 3142 West 26th Street, Erie, PA 16506, or to Asbury Woods nature Center, 4105 Asbury Road, Erie, PA 16506.