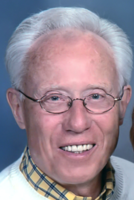 Kenneth C. ""Ken"" Johnson
Kenneth "Ken" C. Johnson
Kenneth "Ken" C. Johnson, age 79, of Millcreek Twp., passed away on Friday, November 10, 2017 at LECOM Senior Living Center. He was a kind, gentle, and honest man. He was born in Fredonia, NY on August 7, 1938, the son of the late Gordon C. and Virginia Albrecht Johnson. Ken was a 1956 graduate of Fredonia H.S. and he obtained his Bachelor's degree from the University of Cincinnati. He served in the US Army during the Korean War. Ken was employed by General Electric Co. for 34 years and retired in 1997. He always said he was born to retire.
Ken was a member (32nd degree) of Perry Keystone Masonic Lodge #392 F. & A.M., and the Scottish Rite. He was also a member of the GEER travel group, was very devoted to DeMolay, and was active for many years in Koinonia ("K-9"). Ken was very committed to his church and serving others in the community. He enjoyed traveling, reading, exercising, biking, rollerblading, gardening, and playing with his grand dog Mini.
Ken will be remembered as a devoted and loving husband, father, grandfather, and friend. He would like to say a special thank you to Dr. Bauch who comforted him many times when he couldn't breathe.
In addition to his parents he was preceded in death by his son Brian Johnson of MI. He is survived by his loving wife Louise Johnson who was the love of his life for 44 years, sons: Brad Johnson (Kate) of Girard, Bruce Johnson (Mary Ann) and Brett Johnson (Julie) of MI and Stephen Sowers of Erie, ten grandchildren, one great-grandchild, one brother Gordon C. Johnson (Marlene) of NY and one sister Sharon Privitera (Nin) of NY. Friends may call at the Dusckas-Martin Funeral Home and Crematory, Inc., 4216 Sterrettania Rd. on Friday from 3:00 p.m. until time of the Masonic service at 7:00 p.m. The Funeral Service will be held at the funeral home on Saturday, November 18 at 1:00 p.m. with interment at Laurel Hill Cemetery with full military honors. In lieu of flowers, memorial contributions may be made to the family to assist those in need in his community.