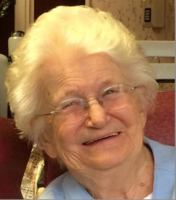 Lois M. Will
c
Lois M. Kibbe Will
Lois M. Kibbe Will, 93, of Erie, passed away peacefully Friday, November 24, 2017. She was born in Waterford, Twp., PA on February 12, 1924, the daughter of the late James W. and Bessie Hinkson Kibbe.
Lois was a member of First Alliance Church and worked in children's church for many years and later enjoyed the senior citizen shuffleboard group on Monday nights. She worked in food service for the Millcreek Twp. School District until her retirement. Her joy came when spending time with her family.
Besides her parents, she was preceded in death by her husband, Raymond F. Will, one brother, Fred Kibbe, and two sisters; Ruth Keith and Florence Allen
She is survived by her three children; Diane Huntington (Robert) of Salisbury, MD, Timothy Will (Linda) of Waterford, Scott Will (Jennifer) of Fairview, two brothers; Charles Kibbe (Mary) of Waterford, John Kibbe (Virginia) of Cambridge Springs, nine grandchildren, one great-grandson, and many nieces and nephews. Our family would like to thank the caregivers at Sarah Reed Retirement Center for their gracious care to Lois. Donations can be made to Meeting God in Missions, 110 Hays Rd., Pittsburgh, PA 15241. (In care of First Alliance Church-Erie in memory of Lois Will)
Friends may call at the Dusckas-Martin Funeral Home and Crematory, Inc., 4216 Sterrettania Rd. on Tuesday, November 28, 2017 from 3:00 until 7:00 p.m. and are invited there on Wednesday, November 29, 2017 at 10:00 a.m. for the Funeral Service officiated by Rev. Carl Schmidt.. Interment Laurel; Hill Cemetery.