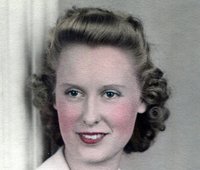 Mary Elizabeth Gossman
Mary Elizabeth Gossman (Douglas), 95, died on November 30, 2017 at St. Vincent's hospital following a brief illness. She was born on December 19, 1921 in Erie. She was the daughter of Gertrude T (Weber) and Harry F. Douglas. She had one brother, John L Douglas.
A lifelong resident of Erie, she attended Wayne Elementary and East High Schools. Her mother was one of the early graduates of St Vincent's School of Nursing. Mary also obtained her nursing degree at St Vincent's as did her daughter, Susan Lynn. Mary spent many childhood summers at the family home at Findley Lake. She enjoyed swimming and once swam the lake's breadth. "Good old Findlay" remained a lifelong favorite and was visited often in recent years, in the company of her son. Outdoor activities were her favorite and she conceded that, although she loved horses, she never mastered the art of riding. She was captivated by gardening and refined her interest in growing flowers and designing her garden. She also produced notable line drawings.
Mary was a warm, self-effacing, and un-opinionated woman. She was a great conversationalist and possessed her mother's engaging sense of humor. She taught all those around her to find beauty in nature and creativity in life.
She and her husband of 60 years, Melvin James Gossman, had three children: Melvin Douglas, Susan Lynn and Patricia Ann. They had four grandchildren: Amy Fitzgerald, Erin (Fitzgerald) Mergner, David Gossman, and Steven Gossman.
Her great grandchildren include: Amanda, Danielle, and Ryan Mason, all of Erie; Dylan, Brandon, Anna, Lyndsy, and Tyler Mergner, all of Erie; Jack and Nate Gossman, of Green Bay Wisconsin; and Nolan and Reid Gossman, of Louisville Kentucky.
She was preceded in death by her brother, John, husband, Melvin, and daughters Patricia Ann and Susan Lynn. Her son, Douglas, of Louisville, Kentucky, survives her.
She had been a member of the St. George and Our Lady of Peace parishes. Mary was honored at a private prayer service hosted by the Dusckas-Martin Funeral Home & Crematory Inc. 4216 Sterrettania Rd., on December 2, 2017, 18 days before her 96th birthday. A graveside ceremony followed at St. Francis Cemetery in McKean Pennsylvania, where she was buried beside her husband and youngest daughter. She will be missed and fondly remembered.
Mary requested that, in lieu of flowers, contributions should be made to the Saint Vincent Foundation in her name. The foundation may be contacted by phone at 814-452-5961 or by mail at 232 W. 25th St., Erie, PA 16544.