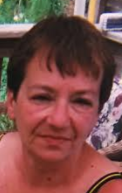 Wanda H. Simmons
Wanda H. Simmons, age 67 of Erie, passed away following complications from an extended illness, on Thursday November 30, 2017 at St. Vincent Hospital. She was born in Germany on December 30, 1949, a daughter of the late Frank and Anna Czarna Nawolski.
Wanda's greatest love was her family and she loved spending time with her grandchildren. She also enjoyed taking road trips.
In addition to her parents she was preceded in death by two brothers, Anthony and Stanley Nawolski.
She is survived by her two daughters, Carol (Chuck) Oakes and Suzanne Simmons; three grandchildren, Justin, Jessica and Chelsea Oakes; one sister, Mary (Roger) Dionne and numerous nieces and nephews.
Friends may call at the Dusckas-Martin Funeral Home & Crematory Inc. 4216 Sterrettania Rd. Erie, PA 16506, on Monday evening from 5:00 to 7:00 PM. Funeral services will be private and held at the convenience of the family. In lieu of flowers memorial contributions may be made to the family c/o the funeral home.