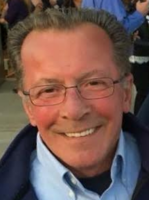 Larry D. Aldridge
c
Larry D. Aldridge, age 73 of Mill Village, PA, passed away at his home surrounded by his family on Monday December 4, 2017. He was born on September 26, 1944 in Pittsburgh, PA, a son of the late Paul Aldridge and Mae (Aldridge) Szczesny.
Larry moved to Erie in 1950 and after high school proudly served his country in the United States Army. He moved to Mill Village in 1977 where he currently resided. Larry retired from Penelec where he worked as a lineman. He also was employed at Koppers and Erie Hard Chrome. Larry was a longtime friend of Bill W. He enjoyed motorcycling, hunting, camping and gun collecting.
In addition to his parents he was preceded in death by his wife Frances E. (Terry) Aldridge in 2015.
He is survived by three children, Lisa M. (Aldridge) Young and her husband Terry, Kerry L. (Aldridge) Bobin and her husband Jeff and Larry J. Aldridge and his wife Julia; seven grandchildren, Shane, Rebecca and Eric Young, Paige and Blaine Wolfrom and Cory and Brandon Aldridge; one sister, Denise Wareham; two brothers, Monte and Paul Aldridge and his special friend, Kim Skelton
Friends may call at the Dusckas-Martin Funeral Home & Crematory Inc. 4216 Sterrettania Rd. on Thursday from 2 to 4 PM and 6 to 8 PM, and are invited to a funeral service there on Friday morning at 11:00 AM, with his son-in-law Pastor Jeff Bobin officiating. Private interment will be held in Mitchell Cemetery in Cambridge Springs, PA.
Memorial contributions may be made to the Erie City Mission, 1017 French St. Erie, PA 16512.