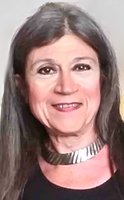 Florence Anna Rothwell
c
Florence Anna "Flo" Rossetti Rothwell passed away peacefully at Shadyside Hospital in Pittsburgh on Saturday, December 2, 2017 after a year-long battle with leukemia. She was born in Erie in 1953, the only child of her beloved parents Falco Rossetti and Josephine (Coniglio) Rossetti, both of whom preceded her in death. She is survived by her son, Dr. Garrett P. Clark, wife Marie, and children, Elaina, Connor, Caden, and Christian; by her daughter, Lucia M. Scutella, and children, Elijah and Santino; by her son, Ian R. Rothwell; and by her former husband and devoted companion of many years, Donald L. Rothwell. She is also survived by several other relatives including cousins, Tina Marone, Florence Frissora, Donna Donogan, Pat Lapping, Liz Katchel and Tony Pugliano; and by aunts, Margaret Ambrogio and Maria DiStefano.
A former college instructor, Flo had an enduring dedication to learning and devoted much of her life's work to education. For the past 10 years she had been employed with CMI Energy (formerly Zurn Energy) in Erie, where she most recently served as their Training and Communication Manager. Flo held a Bachelor of Arts Degree from Mercyhurst University and a Master of Arts Degree from Gannon University. She was a member of American Mensa and of the International Association of Business Communicators.
Flo loved life and was passionate about everything she did. Her interests ranged from poetry to paleontology, from art to mathematics, from motorcycles to music. Anxious to know as much as she could of the world, she often referred to herself as a "Kosmopolites"—a "citizen of the universe"—and embraced the continual search for knowledge as a lifelong goal. Flo Rothwell was a dynamic individual who marched to her own drum and who took great pride in her family and friends. Those who knew her will remember her as a unique spirit and a brave soul.
Family and friends will be received at the Dusckas-Martin Funeral Home and Crematory, Inc., 4216 Sterrettania Rd., on Wednesday from 4 pm until the time of the Memorial Service there at 7 pm conducted by Deacon Anthony Alleruzzo. Private interment will be held at Gate of Heaven Cemetery. In lieu of flowers, please contribute to or volunteer your time to the educational facility or program of your choice.