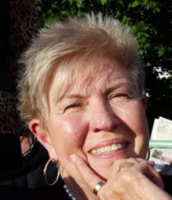 Grace M. Coverdale
c
Grace M. Chessario Coverdale, was born in Jamestown, NY, October 26, 1940. However, that was classified information until now, (Sorry Grace). As Grace spent many years enjoying, alternating each year between 57 and 58 and never admitting to being older that 68. Her strong stubborn personality kept her going through an ugly year long war with cancer that stole her from us, Saturday December 16, 2017. She was the daughter of Rudy and Rose DeSantis of Millcreek. We were fortunate to keep her comfortably at home until the end, where we continued to enjoy her endless sense of humor, sarcastic wit and positive attitude. Keeping true to her stubborn streak, Grace vigorously searched for 15 long years to find the perfect husband for herself and the best father for her son, Michael. That quest ended at the local Toyota dealership where she met the service manager, Bob Coverdale. She offered to buy him a drink for returning her car in perfect running order. She was not SHY! That encounter resulted in a 38-year marriage and earned Bob the status of sainthood, for all those who knew her, she could be DIFFUCULT! Grace finally found her soulmate (and as an added bonus), sous chef!! They were both passionate about cooking and baking together until Bob passed away in 2015.
Following her graduation from McDowell in 1958, Grace found a life-long career at the General Telephone Company as a CAD drafter until retiring in 1995. She also established life-long friends there. With dreams and endless energy, she also found time to purchase and remodel apartment houses, with her father Rudy at her side and later Bob and her son Michael too, she became a skilled worker. She was especially proud of her drywalling abilities, and let's not forget the floral shop Lilacs and Lace, she co-owned in the 80's. She was not LAZY!
Eventually Grace learned to relax a little, enjoying time with family at their beach house in Myrtle Beach, SC. She enjoyed the restaurants, beach, golfing and the consignment stores there. Above all, Grace loved family, friends and cooking, in that order. It is not an exaggeration to say her son and his children, Raine and Chase were her world. Nothing meant more to her than family. She was LOYAL!
Beside her son and grandchildren, Grace is survived by her sister, Roseann Taylor, her husband Jeff, sons, Clint and Chad Hershey. Also, sister, Toni Vieyra, her sons, Christopher and Michael Vieyra and Tanica Bell and grandson, Andrew Smith.
Finally, Grace would want us to send special thanks to all the nurses at St. Vincent Infusion Center. She thought you all were DAISY AWARD WINNERS.
Friends may call at the Dusckas-Martin Funeral Home & Crematory Inc. 4216 Sterrettania Rd., on Tuesday December 19, 2017, from 3:00 PM to 7:00 PM, and are invited to a funeral service there on Wednesday morning at 10:00 AM. Entombment will follow in Calvary Cemetery.
In lieu of flowers memorial contributions may be made in Grace's name to the, Erie City Mission 1017 French St. Erie, PA 16512.