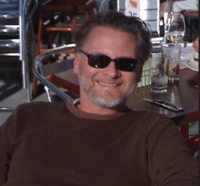 David D. Christenson
With profound sadness we announce that David D. Christenson passed away quietly in the early afternoon of December 13, 2017, after a three-and-a-half-year battle with lung cancer. Born in Erie on March 15, 1963, the son of Duane "Skip" Christenson of Millcreek and the late Mary Christenson, Dave and best friend Rich Nevens founded the 80's pop duo Stabilizers. The band enjoyed local and national success which brought them to Los Angeles where Dave married and raised two amazing sons. Dave later joined the L.A. professional audio industry enjoying a career which took him to Asia, Australia, Europe and South America and ultimately led him and his family to Seattle, Washington where he spent the remainder of his life. Until the end, Dave stayed active in the Seattle music scene; continuing to write and record music until just a few days before his passing.
To those who were fortunate enough to know him, Dave will always be remembered as an amazing artist, father, husband, brother, uncle, son and friend who lit up any room he walked into. Dave was a true gentleman with charm and charisma, an unending enthusiasm for his family, friends, and life, and a sense of humor that was infectious and inspirational to the end. He will be missed by everyone who knew him.
Dave is survived by his father, brother Doug, sister-in-law Vera: their children Kendall, Devin, Lauren and Pierce, his sister Lisa Filipski, brother-in-law Mike: their children Ryan and Jenna, and his wife Robyn and their sons Ian and Sean.
Memorial services will be held in Seattle and Los Angeles in mid-January and in Erie Pennsylvania later that month. Local arrangements are being handled by the Dusckas-Martin Funeral Home & Crematory Inc. 4216 Sterrettania Rd.