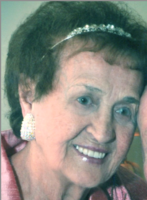 Margaret D. Sanders
Margaret Dorothy Semenske Sanders, age 88 of Millcreek Twp., passed away at her home on Friday December 22, 2017. She was born on August 29, 1929 in St. Louis, MO, a daughter of the late, Walter and Viola Wiley Semenske of Troy, Missouri.
In addition to her parents, she was preceded in death by her wonderful husband of 65 years, Eugene F. Sanders; brother, Gene Semenske; sister, Aileen Rutherford; grandson, Phillip Sanders and two great-grandchildren in infancy.
Margaret is survived by her four children, Don (Mary) Sanders of St. Louis, MO, Patty (Greg) Maxwell of Syracuse, NY, Gloria (Jim) Mack of Millcreek Twp. and David Sanders of West Springfield; eight grandchildren, Jeffery Sanders, Tim Maxwell, Jeniffer Alfieri, Danielle Mack, Jimmy Mack, Autumn Sanders, David Sanders and Brandon Tercho; nine great-grandchildren and one sister Jeanette Merry.
She was fortunate to be a stay at home mom. Margaret was a member of Asbury United Methodist Church in Millcreek Twp. In her younger years, she loved making ceramics and playing bingo. She loved casinos and would visit there regularly with her daughters and enjoyed fishing with her husband on Lake Erie.
Friends may call at the Dusckas-Martin Funeral Home & Crematory Inc. 4216 Sterrettania Rd., on Wednesday from 2 to 4 pm and 6 to 8 pm, and are invited to a funeral service there on Thursday morning at 11:00 AM. Interment will follow in Laurel Hill Cemetery.
Memorial contributions may be made to Make a Wish Foundation, 1001 State St. #502, Erie, PA 16501.