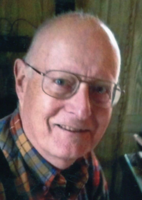 Alan Kurt Heineman
Alan Kurt Heineman, 77 of Millcreek Twp., died on Saturday December 23, 2017 after a battle with Acute Myeloid Leukemia. He was born in Pittsburgh, PA on March 27, 1940, the son of the late Eugene and Irene Heineman. Following graduation from Thiel College in Greenville, PA, he spent six years in the active Army Reserves and 43 years in various positions handling insurance casualty & workers compensation claims. Alan's main avocations were gardening and restoring and maintaining his and his wife's 176-year-old home.
Survivors include his wife of 54 years Jane Mickley Heineman who he had known since childhood; two children, Dave (Lori) Heineman of Pittsburgh and Christine (Joe) Rys of Erie; four grandchildren, Natalie and Sam Heineman and Jack and Ethan Rys and one sister Ann Heineman of Columbus, OH.
He requested that his body be donated to the Humanity Gifts Registry Program. Friends may call at the Dusckas-Martin Funeral Home & Crematory Inc. 4216 Sterrettania Rd. on Thursday, December 28, 2017 from 4:00 to 8:00 PM, and are invited to a Memorial Service there on Friday, December 29, 2017 at 11:00 AM.
The family would like to thank the staff at West Penn Hospital in Pittsburgh, RCC, St. Vincent Hospital Infusion Center and the VNA Home Health Care and Hospice Team for all their care and support.
In lieu of flowers memorial contributions may be made to the Presque Isle Partnership 301 Peninsula Dr. #2 Erie, PA 16505.