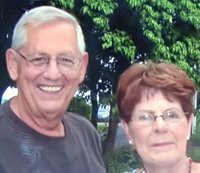 Marilyn Konieczny
Marilyn Przybyszewski Konieczny
Marilyn Konieczny, beloved mother, grandmother, great-grandmother, sister, aunt, and friend, passed away peacefully on December 24, 2017, the most blessed Christmas Eve, surrounded by family.
Marilyn was born in Erie on November 24, 1940, the daughter of Frank and Helen Przybyszewski. She graduated from St. Benedict Academy and started her career at Erie Insurance Exchange. She married the love of her life, Joseph Konieczny, on January 6, 1962. She left Erie Insurance Exchange to raise their family.
Marilyn eventually went back to work and retired as the Assistant Registrar at Gannon University. Her retirement didn't last long. She wanted to continue to be active in the community and landed at Our Lady of Peace School, her home parish, as a cafeteria lady. She treasured her time with her co-workers…her friends, and the students.
Marilyn's greatest joy was entertaining her family and friends. She was an avid reader, belonged to the Red Hats, and enjoyed working in her yard. She also had a special family…her card club group. Frannie, Kathy, Rose Ann, Mari, Evelyn, and Linda.
Marilyn was preceded in death by her dear husband Joseph and is survived by their three children; Kristin Onorato and her companion David Zaborowski of Erie, Julie Modzelewski and her partner Cheryl Blankenship of Houston, TX, and Eric Konieczny and his companion Stephanie "Red" Anderson of Erie.
She has three lovely grandchildren who are dear to her heart. Kayla Konieczny and her companion Manny Caputo and their children, her great-grandchildren Joseph and Jonah, Tyler Konieczny and Nina Onorato.
Marilyn is also survived by her sister, Fran Grabski and her husband Gene, her nieces and nephews; Kelly Romeo and her husband Ryan, Jen Wallen and her husband Scott, and David Tofel, Jr. and his wife Dawn, as well as her brother-in-law David Tofel, Sr., son-in-law John Onorato and daughter-in-law Carla Torelli-Konieczny.
Friends may call at the Dusckas-Martin Funeral Home and Crematory, Inc., 4216 Sterrettania Rd. on Friday, December 29, 2017 from 3 p.m. until 7 p.m. and are invited there on Saturday, December 30, 2017 at 10:15 a.m. for prayers followed by a Christian Mass at Our Lady of Peace Church, 2401 West 38th Street at 11:00 a.m. Private interment.