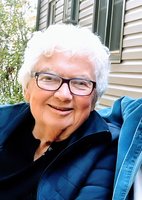 Mary Jane Koester
Mary Jane McBride Koester
Mary Jane McBride Koester, age 86, of Millcreek Twp., passed away after a brief illness at St. Vincent Hospital on Monday, January 1, 2018. She was born in Saginaw, MI, the daughter of the late William H. and Ella Marie James McBride. Mary Jane was a 1953 graduate of Marygrove College. She had resided in Erie since 1970, moving here from Milwaukee. She was employed at Social Services of Detroit and Kaufman's Dept. Store.
Mary Jane was an avid reader and quilter.
She is survived by her loving husband Harold J. Koester, four children; John Koester (Sue) of Erie, Tom Koester (Patty) of Milwaukee, Jim Koester (Maria) and Kathy Koester of Erie, seven grandchildren: Megan, Bryan, Kevin, John, Greg, Sean, Valerie, and three great-grandchildren She was preceded in death by one brother John Michael McBride.
Friends are invited to call upon the family on Friday, January 5, 2018 from 9:30 a.m. until the time of the Funeral Mass at 10:30 a.m. at Our Lady of Peace R.C. Church, 2401 West 38th Street, Erie, PA 16506. Private interment. All arrangements are under the direction of the Dusckas-Martin Funeral Home and Crematory, Inc., 4216 Sterrettania Rd. In lieu of flowers, memorial contributions may be made to the Erie Regional Library Foundation, Blasco Memorial Library, 160 East Front Street, Erie, PA 16507.