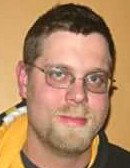 Michael J. Pollock
Michael J. Pollock, age 34, of Millcreek Twp., passed away on Tuesday January 23, 2018 at UPMC-Hamot Hospital, following complications from diabetes. He was born in Erie on April 21, 1983, son of Joanne Loomis and Dr. James Pollock.
He was preceded in death by his maternal grandparents, Rev. Billie and Ettagene Loomis and paternal grandparents, Henry and Luella Pollock.
Mike Graduated from McDowell High School in 2001. He had previously worked for Contemporary Motorcar for twelve years. Mike had a love of foreign cars and working on them. Three years ago, he was able to fulfill his dream and open his own garage called Mike's Motor Works in Harborcreek. Mike was an avid Pittsburgh sports fan and especially loved the Penguins.
In addition to his parents he is survived by his fiancée, Julie St. John; three children, Owen, Brooklyn and Bradley; one sister, Amy (Scott) Alexander; two nieces, Brittany and Alexandra; one nephew, Steven and numerous aunts, uncles, and cousins.
Friends may call at the Dusckas-Martin Funeral Home & Crematory Inc. 4216 Sterrettania Rd., on Friday from 2 to 4 and 6 to 8 PM and are invited to a funeral service there on Saturday afternoon at 1:00 PM. Interment will follow in Laurel Hill Cemetery.
Memorial contributions may be made to the Juvenile Diabetes Research Foundation, www.JDRF.org.