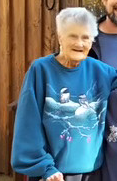 Lois J. McClimans
Lois J. McClimans, age 86, of Millcreek Twp., passed away unexpectedly on Friday February 2, 2018 at Millcreek Community Hospital following a brief illness. She was born in Erie on July 5, 1931, a daughter of the late David W. and Violet A. Wadsworth McClimans, Jr.
Lois graduated from Millcreek High School. During her working career she held many positions, with her favorite job being a limousine chauffer for the Bel-Aire Hotel. Lois enjoyed being surrounded by nature and loved animals.
In addition to her parents she was preceded in death by one brother, Robert R. McClimans and her step-mother, Frances McClimans.
She is survived by her partner and spouse of 52 years, Kathleen Schroeck; one son, Kevin D. (Liz) Weilacher of Canton, OH; step-daughter, Heidi (Jeff) Vandervort of Haymarket, VA; three grandsons, Kristian Vanhorn and Brandon and Erich Weilacher; one step-grandson, Matthew Vandervort; one sister, Linda (Jim) Henson and many great-grandchildren, nieces and nephews.
Funeral services were private and held at the convenience of the family. Arrangements are under the care of the Dusckas-Martin Funeral Home & Crematory Inc. 4216 Sterrettania Rd. Erie, PA 16506.
Memorial contributions may be made to Asbury Woods Nature Center, 4105 Asbury Rd. Erie, PA 16506.