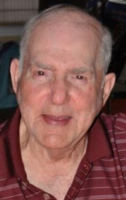 John Thomas ""Tom"" Hauber
John Thomas "Tom" Hauber, age 78, of Millcreek Twp., passed away on Monday, February 5, 2018, at St. Mary's at Asbury Ridge, with his wife and loving family at his side. Tom was born on April 5, 1939, in Erie, to the late Albert A. and Vera A. (Thomas) Hauber.
Tom graduated from Sacred Heart Catholic School and Erie Technical High School in 1957. After graduation, he began his career at General Telephone Company, where he would happily remain for 39½ years. His career at GTE was briefly interrupted when he enlisted in the U. S. Army, completing two years of active duty and two years of reserve duty.
Tom married the love of his life, Kathleen Ann Anderson, on June 19, 1965, at St. Ann Catholic Church. They made their home in Millcreek and enjoyed a full life with their four children. Tom was a member of St. Jude the Apostle Church and a 10-year volunteer fireman for West Ridge Fire Department, a service for which he was extremely proud of, exemplifying his character. He was an avid boater, enjoying time on Presque Isle Bay, the Lagoons, and Horseshoe Pond and was a contributing member of Commodore Perry Yacht Club. One of Tom's true passions was hunting as he spent numerous weekends at hunting camp; the other was golf. Tom particularly enjoyed playing golf in the GTE Friday Night Downing Golf League. He was also a member of St. Mary's Club, where he participated in a bowling league with family even though bowling was certainly not a passion. In addition, he was fond of watching the Boston Celtics, the Green Bay Packers, and even the New York Yankees, much to the chagrin of some family members!
Shortly after retirement from GTE/Verizon in 1996, at only age 57, Tom suffered a massive stroke following surgery to repair a brain aneurysm. While the resulting stroke left him physically disabled, his spirit remained intact. He was a true inspiration and a friend to all who had the good fortune to make his acquaintance.
Tom's favorite time of the year was the first week in April, when the Masters was played. He drank a good Manhattan. He thoroughly relished taking daily rides around Presque Isle and riding his scooter all around Millcreek. He cherished traveling with his family, taking an Alaskan cruise in 2015 to celebrate he and Kay's 50th Wedding Anniversary. Tom was a good man, who loved his wife, was proud of his children, and adored his grandchildren. His family will miss him forever.
In addition to his parents, he was predeceased by brother-in-law Harold Patterson.
Tom (Papa) is survived by his loving and devoted wife of 52 years, Kathleen "Kay" Hauber; proud children Ann Piechocki, spouse Luke; Patricia Lewis, spouse Gordon, Christopher Hauber, spouse Suzanne, and Erin Hauber; six grandchildren, Caleb Brooder, Trent and Natalie Lewis and, Aidan, Genevieve, and Bella Hauber. Tom is also survived by his sister Marilyn Patterson; sister-in-law Patricia Heubel; brother-in-law James Heubel; sister-in-law Carol Anderson; brother-in-law Jerry Anderson; and many nieces and nephews and good friends.
Tom's family would like to thank the caregivers at St. Mary's at Asbury Ridge for their compassionate care during the last year.
Family and friends are invited to call at the Dusckas-Martin Funeral Home & Crematory Inc., 4216 Sterrettania Road on Friday from 3-5p.m. and from 7-9p.m. and to attend a Funeral Mass at the Chapel at St. Mary's at Asbury Ridge, 4855 West Ridge Road, at 11a.m. on Saturday. Burial will follow with full military honors at Laurel Hill Cemetery.
In lieu of flowers, memorial contributions can be made in Tom's name to West Ridge Fire Department, 3142 West 26th Street, Erie, PA 16506, and to St. Mary's at Asbury Ridge, 4855 West Ridge Road, Erie, PA 16506.