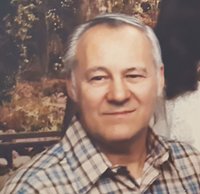 Joe F. ""Papa"" Madewell
Joe F. "Papa" Madewell
Joe F. "Papa" Madewell, age 88, of Albion, passed away after an extended illness on February 14, 2018 at Erie Veteran's Affairs Medical Center. He was born in Palmer, TN on May 18, 1929, the son of the late Charles and Charity Green Madewell. Joe came to Erie after his service in the US Army during the Korean War. They moved to Albion after his retirement from GAF Corp. after many years of employment.
He was a member of Interfaith Church, and enjoyed spending time with his family, gardening, traveling back to TN to visit family.
He is survived by his beloved wife Esther L. Vanhooser Madewell and just recently celebrated 64 years of marriage on January 16, 2018, two sons; David F. Madewell (Shirley), Robert L. Madewell (Toni) and also a special former daughter-in-law Patricia Truitt, one sister Isabell James, two grandsons; John Eliason, Joshua Porfilio, six granddaughters: Amie, Lisa, Megan, Charity, and Christy Madewell, Courtney Sweed (Adam), three step-grandchildren; Wanita Moore, Joann McLaughlin (Bernard), and Richard Moore, great-grandchildren, great great-grandchildren and several nieces and nephews, He was preceded in death by one brother Eugene Madewell. The family would like to thank all the medical staff at the VA Medical Center, especially Greg Popoff, for the great care shown to Joe while he was there.
Friends may call at the Dusckas-Martin Funeral Home and Crematory, Inc., 4216 Sterrettania Rd. on Friday, February 16, 2018 from 2 to 4 and 6 to 8 p.m. and are invited there on Saturday, February 17, 2018 at 10:00 a.m. for the Funeral Service conducted by the Rev. Gene Kennett. Interment Wintergreen Gorge Cemetery.