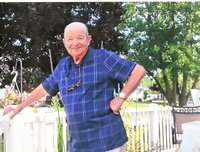 Ross L. Caruana
Ross L. Caruana, age 81, of Millcreek Twp., passed away on Tuesday, February 20, 2018 at his residence after an extended illness surrounded by his loving family. He was born in Erie on July 29, 1936, the son of the late John and Sarah Scalia Caruana. He grew up in North East, PA and attended Penn State Behrend where he received his Associates Degree. He was employed at Bliley Electric, Westinghouse, and WSEE TV.
He was an avid bowler, fisherman, and was a self- taught computer wizard.
He was preceded in death by his beloved wife Betty Jean Ward Caruana in 2014, three sisters; Mary Caruana, Lucille Boicourt, and Sarah "Sally" Stiffler. He is survived by his children: Robin Caruana (Ralph Mannarino) of McKean, Ross E. Caruana (Ann) of North East, Denise "Dee" Caruana of Erie, twins; David John Caruana (Kelly) of Albion, Daryl Joe Caruana of Pittsburgh, three grandchildren; Alex R. Caruana of St. Augustine, FL, John D. Caruana EOCN, US Navy stationed at Gulf Port, Mississippi, Ross William Caruana of North East, three step-grandchildren; Daniel Arnold, Sarah Morin, and Shelly Ferl, and his dearest friend Debbie Yurkovic.
Friends may call at the Dusckas-Martin Funeral Home and Crematory, Inc., 4216 Sterrettania Rd. on Friday, February 23, 2018 from 4:00 pm until time of prayer service there at 7:00 pm. Private interment. In lieu of flowers, memorial contributions may be made to the Sight Center of NW. PA, 2545 West 26th Street, Erie, PA 16505.