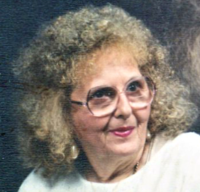 Mary J. Krizanik
!
Mary J. Legnosky Krizanik, age 97 of Erie, passed away on Thursday February 22, 2018 at Golden Living – Western Reserve Nursing facility. She was born on December 8, 1920 a daughter of the late Michael and Kathryn Novak Legnosky. In addition to her parents she was preceded in death by her husband, John C. Krizanik one son, John J. Krizanik and one grandson, Aaron Krizanik.
Mary was a former member of Sts. Peter and Paul Catholic Church. She was an avid bowler and enjoyed going to garage sales and flea markets. Most of all she loved spending time with her grandchildren.
She is survived by two sons, William "Bill" Krizanik and Brett Krizanik, one daughter Barbara Ann Prindle, several grandchildren, great-grandchildren and one great-great-grandchild. She is further survived by two sisters, Julia Gawlinski and Helen McNulty and numerous nieces and nephews.
Friends may call at the Dusckas-Martin Funeral Home & Crematory Inc. 4216 Sterrettania Rd., on Monday from 2 to 4 and 6 to 8 PM and are invited to a funeral service there on Tuesday morning at 10:00 AM. Interment will follow in Gate of Heaven Cemetery.
In lieu of flowers memorial contributions may be made to, NAMI 1611 Peach St. #105 Erie, PA 16501.