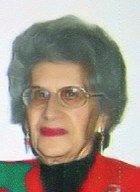 Elizabeth ""Liz"" Kingsmore
Elizabeth Penna Kingsmore
Elizabeth "Liz" Penna Kingsmore, age 91, of Millcreek Twp., passed away on Friday, March 9, 2018 after a brief illness. She was born in Erie on July 24, 1926, the daughter of the late Emilio and Amelia Penna. Liz retired from Garnon Ford in 1998 and was a member of St. Julius R.C. Church. She crocheted blankets for family and friends and was a member of the Eastern Star.
She was preceded in death by her husband Roy D. Kingsmore in 1979, four sisters: Helen Penna, Connie DiPlacido, Jenny Urbaniwitz, Rita Brooks and three brothers; Anthony, James, and Edward Penna.
She is survived by two sons; James E. Kingsmore (Linda) of Fairview, Roy D. Kingsmore (Sue) of Lake City, one sister Rosalie Burick of TX, one brother Lewis Penna (Jane) of Millcreek, six grandchildren: Lisa Kingsmore Donohue, Michael Kingsmore, Jonathon Kingsmore, Matthew Kingsmore, Andrew Kingsmore, and Thomas Kingsmore, many nieces and nephews.
Private services were held at the convenience of the family by the Dusckas-Martin Funeral Home and Crematory, Inc., 4216 Sterrettania Rd. Private interment Laurel Hill Cemetery. In lieu of flowers, memorial contributions may be made to the Alzheimer's Association, Greater PA Chapter, 1600 Peninsula DR., Suite 15, Erie, PA 16505.