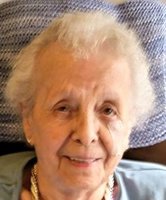 Martha J. Lester
Martha Nickols Lester
Martha Nickols Lester, age 90, of Millcreek Twp., passed away Wednesday, March 28, 2018 at St. Mary's at Asbury Ridge after an extended illness. She was born in Volant, PA on June 18, 1927, the daughter of the late Louis and Emma Waldron Nickols. Before moving to Erie, Martha lived with her husband, Robert in Pearce, AZ where she worked as the librarian at the local elementary school and for several years she owned and operated her own café, The Sunizona Café. She enjoyed crocheting and baking her specialty pies. She was an avid reader.
Besides her parents she was preceded in death by her husband Robert Lester, two brothers; Jack and George Nickols, two sisters; Helen Sample and Katherine Sprute, one granddaughter Darcy Mansel, and a daughter-in-law Carolee Miller.
She is survived by her three children: George "Sam" Miller of Hawthorne, NV and two daughters; Betty Mansel and Ellen DiPlacido (Lou) both of Erie.
Martha was blessed with many grandchildren: Bryan and Duane Miller of Idaho, Wade Mansel of FL, and Carrie Mitchell Guffey (Mike) of Gibsonia, PA, Debbie Miller of Fallon, NV, and Linda Miller of San Diego, CA. She also has several great-grandchildren, great great-grandchildren, nieces and nephews.
Private services were held at the convenience of the family by the Dusckas-Martin Funeral Home and Crematory, Inc., 4216 Sterrettania Rd.
Martha's family wants to extend its heartfelt thanks to all her friends and "family" at St. Mary's at Asbury Ridge for their care and love. Also thank you to Tom, her hospice nurse, for keeping her comfortable during her final hours.
In lieu of flowers, memorial contributions may be made to St. Mary's at Asbury Ridge, 4855 West Ridge Rd., Erie, PA 16506 or to Great Lakes Home Healthcare, 1700 Peach Street, Suite 244, Erie, PA 16501.