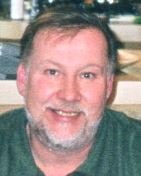 Dennis J. Mogel
Dennis J. Mogel
Dennis J. Mogel, age 64, of Millcreek Twp., passed from this earthly life on Monday, April 2, 2018 to be with the Lord and his beloved wife, Joanne, who passed away in October, 2017.
Dennis was a son of the late Catilda (Pirrello) and Robert Mogel, Sr. Survivors include two brothers, Robert Jr. (Lynn) and Phillip Mogel as well as three daughters; Rebecca Botelho, Brenda Garner, and Emily Mogel, nine grandchildren and his first great-grandchild due in August. He is also survived by aunts, uncles, niece, nephews, and cousins.
Dennis worked for several years at Erie Sand & Gravel and most recently at GE. He was an active hunter and fisherman who loved the outdoors.
He will be sadly missed by his "puppy", Gunner, who went everywhere with him. Dennis was a unique character who will be missed by those who knew him. May he rest in peace.
Friends may call at the Dusckas-Martin Funeral Home and Crematory, Inc., 4216 Sterrettania Rd. on Friday, April 6, 2018 from 4:00 p.m. until 8:00 p.m. and are invited there on Saturday, April 7, 2018 at 10:00 a.m. for the Funeral Service. Interment Laurel Hill Cemetery. In lieu of flowers, memorial contributions may be made to the charity of one's choice.