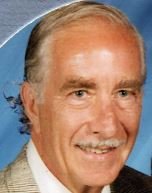 Louis H. ""Louie"" Markopolos
Louis "Louie" H. Markopolos
Louis Markopolos, age 88, of Millcreek Twp., passed away on Tuesday, April 3, 2018 of pancreatic cancer surrounded by his loving family at the Erie Veteran's Administration Hospital. He was born in Erie, PA on November 13, 1929, the son of the late Harry and Areti "Ida" Serris Markopolos. He was a 1947 graduate of Strong Vincent H.S. and was a US Army veteran who served as a corporal in the 1st Infantry Division's 1st Combat Engineers Battalion from 1952-1954. He owned and operated the New York Lunch, the Red Fox Tavern, and the Busy Bee Tavern in Erie before moving to Baltimore where he operated twelve Arthur Treacher's restaurants. Louie was a life-long member of the Assumption Greek Orthodox Church and a life-long member of the American Legion.
He donated the Anchor Inn and the Pilot House properties at 3rd and State Streets to Hamot Hospital. He was and avid outdoorsman who enjoyed hunting and fishing.
He is survived by his beloved wife Georgia Pappas Markopolos, his children; Harry of Boston, MA, Melissa of Venice, FL.and Louis of Heathrow, FL, five grandsons; Matthew and Mark of Tampa, FL, Harry, Louie and George of Boston, MA.
Friends may call at the Dusckas-Martin Funeral Home and Crematory, Inc., 4216 Sterrettania Rd. on Sunday, April 8, 2018 from 12:00 Noon until 4:00 p.m. A Trisagion Service conducted by the Very Rev. Theofanis Nacopoulos will be held at 3:30 p.m. Friends may attend the Funeral Service at the Assumption Greek Orthodox Church, 4376 West Lake Rd., Erie, PA 16505 on Monday, April 9, 2018 at 10:00 a.m. Interment Laurel Hill Cemetery.