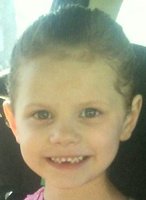 Elizabeth A. ""Lizzy"" Dunbar
Elizabeth "Lizzy" Ann Dunbar
Elizabeth "Lizzy" Ann Dunbar, age 5, of Spring Lake, NC, passed away suddenly after a brief illness on April 4, 2018 in Fayetteville, NC. She was born in Erie on August 30, 2012, the daughter of Zachary M. and Jamie L. Dunn Dunbar.
Lizzy loved to dress up in Disney princess gowns, sing and dance with her dad, and put on make-up and do her nails with her mom.
She is survived by two brothers; Robert M. and Cameron A. Dunbar. Lizzy's other survivors include: Veronica and Mark Golden (Grandma and Grandpa), David Dunn (Grandpa), Michael and Maryann Dunbar (Mama and Papa), Jennifer Dunn (aunt), Alex Norcross (uncle), Jeff Dunbar (great-uncle), Melanie Dunbar (great-aunt), Alice Quinn (great-grandma), Richard Quinn (great-uncle), and Kelly Meyner (great-aunt). She was preceded in death by one brother Joseph M. Dunn, her grandmother, Cheryl L. Dunbar, Robert Quinn (great-grandpa), and Uncle Pat (Quinn).
Friends may call at the Dusckas-Martin Funeral Home and Crematory, Inc., 4216 Sterrettania Rd. on Thursday, April 12, 2018 from 2:00 to 4:00 p.m. and 7:00 to 9:00 p.m. and are invited to Glenwood United Methodist Church, 2931 Myrtle Street, Erie, PA 16508 on Friday, April 13, 2018 for the Funeral Service at 10:00 a.m. Interment Erie Cemetery.
In lieu of flowers, memorial contributions may be made to the family in care of the funeral home to help with expenses