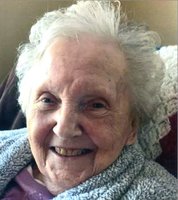 Theresa Sophie Reeger
Headline: A Loving Mother (Angel) of Nine
Theresa Sophie (Majewski) Reeger peacefully passed away in Myrtle Beach, SC formerly of Erie, Pa on April 6, 2018 surrounded by family. Born on May 10, 1928 to the late Joseph and Josephine Jagielski Majewski.
Theresa had met Bennett Reeger at GE on the assembly line and married in August 1948. Retired in Erie, Pa in 1985 and moved to Gastonia, NC where she remained happily married for 64 years until the passing of Ben in July 2013. They both had enjoyed a wonderful retirement life together traveling and enjoying family. A few jobs Theresa had worked throughout her life were at Niagara plastics, JC Penney and Blair New Process, but mainly Theresa has spent her whole life making a warm, beautiful, loving home for her husband and children in Erie, Pa. Theresa would always host our infamous large family reunions in the back yard and always make sure there was plenty to eat (esp. her rice pudding) for all. Theresa had always opened and welcomed our home for family and friends.
In addition to her parents, Theresa was preceded in death by her brother John Majewski and wife Lenora, three sisters; Francis (Majewski) Danias (James), Harriet Majewski, Anna Majewski and Joseph Majewski in infancy.
Theresa is survived and missed dearly by her nine children, Nancy Nielsen (Robert), Rita Reeger both of Erie, Pa; Richard Reeger (Cheryl), Gary Reeger (Kris), Ron Reeger (Renee) all of Gastonia, NC; Janet Carcic (Bill) of Statesville, NC; Linda Sharpe, Susan Beard (Dan) both of Tavares, Fl; Charlene Reeger and loving boyfriend Dan Skrzypczak of Myrtle Beach SC, also survived by 18 grandchildren,16 great-grandchildren and many nieces and nephews.
The family would like to give a special thank you to Palmetto at Garden City for all the loving care they had helped with our mother over the last seven months.
Friends may call at the Dusckas-Martin Funeral Home & Crematory Inc. 4216 Sterrettania Rd., on Friday from 1:00 to 5:00 PM and are invited to a prayer service there on Saturday afternoon at 12:15 pm followed by a Funeral Mass at Our Lady of Peace Catholic Church 2401 West 38th St. at 1:00 PM. Immediately following the Funeral Mass, Theresa's final resting place will be in the mausoleum at Calvary Cemetery 3325 W. Lake Rd.
In lieu of flowers memorial contributions may be made to a charity of one's choice.