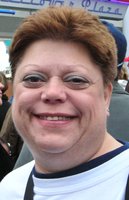 Mary Beth ""MB" or "MBB"" Kalinowski
Mary Beth Kalinowski, "MB" or "MBB", age 61, of Erie, passed away Tuesday, October 16, 2018 at UPMC Hamot from an extended illness. She was born in Erie on September 5, 1957, daughter of the late Harold and Helen Shick Yeaney.
Mary Beth was raised in Erie and graduated from Strong Vincent High School, class of 1975. She graduated from Edinboro University in 1978 receiving her B.S. degree in Social Work. Mary Beth married Timothy J. Kalinowski on December 30, 1978 at St. Julia R.C. Church. She and Timothy moved to Fort Campbell, Kentucky, where Timothy served in the U.S. Army. Mary Beth had taken a position with Exceptacon Outward Campus in Dawson Springs, KY as a social worker. They then moved to Goeppingen, West Germany, where their son, Geoffrey was born in 1981. Mary Beth lived in Germany with family and baby-sat from 1980 to 1983. She moved back to Erie in 1983 to raise her family. She first worked at Gannondale Home for Girls as a counselor; then was employed with the Erie County Assistance Office as an income maintenance case worker for 32 years, retiring in September of 2017.
Mary Beth enjoyed traveling and visiting with good friends, Richard and Norma Miller of Erie. They recently cruised through the Panama Canal in March of 2018. She also enjoyed the company of many friends and relatives. Mary Beth was a member of the Erepa Grotto / Clown Unit and the Erie Clowns, with her husband, where she was known as "Sparkles".
Besides her parents, she was preceded in death by several aunts and uncles. Mary Beth is survived by her husband of 40 years, Timothy; her son, Geoffrey (Amy); her sister, Susan Cumming (Gary); and many nieces, nephews, and cousins. She is further survived by her guardian angel, Yvonne Booth, who donated a kidney and gave life to Mary Beth.
Friends may call at the Dusckas-Martin Funeral Home and Crematory, Inc., 4216 Sterrettania Road, on Friday from 3 to 7 pm and are invited to attend a Funeral Service there on Saturday at 11 am. Interment will follow at Laurel Hill Cemetery. Contributions may be made in Mary Beth's memory to CORE, Center for Organ Recovery and Education, 204 Sigma Drive, Pittsburgh, PA 15238.