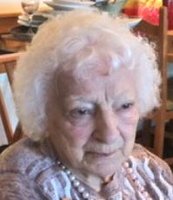 Marie Kitza
1
Marie Kitza, age 101 a resident of Manchester Commons and formerly of Millcreek Twp., passed away peacefully on Wednesday December 19, 2018. She was born in Erie on November 4, 1917, a daughter of the late Michael and Anna Miller Kitza. In addition to her parents she was preceded in death by one sister, Margaret Kavsac and two brothers, Michael and Joseph Kitza.
Marie was a member of the Pennsylvania Secretaries Association, she worked for many years at Brennan and Brennan Architects. She was a member of St. George Roman Catholic Church and enjoyed bingo and bowling.
Marie is survived by numerous nieces and nephews.
Friends may call at the Dusckas-Martin Funeral Home & Crematory Inc. 4216 Sterrettania Rd. on Saturday from 10:00 am until the time of the prayer service there at 12:15 pm, followed by a Funeral Mass at 1:00 PM at St. George Catholic Church. Interment will follow in Gate of Heaven Cemetery.
In lieu of flowers memorial contributions may be made to the ANNA Shelter, 1555 East 10th St. Erie, PA 16511, or the Northwestern Pennsylvania Humane Society, 2407 Zimmerly Rd. Erie, PA 16506.