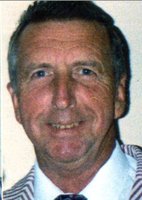 James E. Wilson
James E Wilson, age 88, died on February 7, 2019 at Erie Veterans Medical Center. Jim was born to Charles Wilson and Bernice (Powell) Wilson, in Cleveland, Ohio on September 16, 1930. He was the beloved husband of Mary F (Felix) Wilson, whom he married in 1955.
Jim graduated from Rice Avenue Union High School, Girard, PA and shortly after enlisted in the United States Marine Corps. Jim served as a heavy equipment operator from 1951-1953 in the Korean Conflict. He received the Purple Heart Medal for injuries received in combat in 1953. After returning to the United States, Jim was employed at Don Green Sewer and Septic. Later he joined Felix and Ferrick Excavating and was a proud member of Operating Engineers Local 66. Jim was respected for his work ethic and keen operation of the equipment he operated. Jim often remarked that he loved his job and looked forward to work every day.
After marrying, Jim's first love was taking care of his home, wife and family. Jim and Mary enjoyed their Couples' Club and Square Dancing. Jim also had a variety of outdoor interests. He had a lifelong love affair with Presque Isle Park and enjoyed it whether he was picnicking with his family, fishing or taking a solitary dip in the lake after a hard day's work. Jim and his family spent many years camping in the tri-state area parks and boating in Lake Erie.
Jim is survived by devoted children, Deborah L. Kiefer (Albert), Ohio, James B. Wilson, Massachusetts, Todd M. Wilson (Nancy), Erie, and Cheryl L. Wilson, Corry PA. He is also survived by eight cherished grandchildren, Michelle, Albert, John- Paul, Allison, Emily, Todd Jr., Christian and Alexandria, and eight great-grandchildren, Carter, Caitlynn, Carys, Max, Molly, Milo, Juliana and Norah and many nieces and nephews.
In addition to his parents, Jim was preceded in death by his loving wife Mary F (Felix) Wilson, an infant son and brother Paul Wilson.
Friends may call at the Dusckas-Martin Funeral Home & Crematory Inc., 4216 Sterrettania Rd., Erie, PA 16506, on Sunday afternoon from 1:00 pm until the time of the service with full Military Honors at 4:00 pm. Interment will be private.
In lieu of flowers, the family respectfully requests that memorial donations be made to the Erie Veterans Medical Center Hospice Care Program or Erie Veterans Medical Center General Post Fund for the care of our local veterans. The address for both is: Erie VA Medical Center 135 E. 38thSt., Erie, PA 16504.