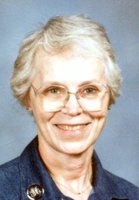 Mary E. Salchli
Mary E. Salchli age 88 of Millcreek Twp., passed away on Friday April 26, 2019 at Manchester Commons. She was born in Erie on December 1, 1930, daughter of the late Arnold R. and Annabel Huegel Salchli. She was a life long resident of Erie.
Mary was employed at Lyons Transportation Lines for 39 years and worked at KURC (Keystone University Research Corporation). She was a member of Grace Church and enjoyed reading and cross stitch.
In addition to her parents she was preceded in death by one sister, Eva McCarthy; two brothers, Frederick and William Salchli; one sister-in-law, Margaret Salchli and one niece, Karen McCarthy.
She is survived by one sister-in-law, Mary Lea Salchli of Louisville, KY, eight nieces and nephews and very special neighbors, Gerald and Sharen Niebauer, who were so good to her for many years.
The family would like to extend a heartfelt thank you to the staff at Manchester Commons – Eagle Ridge Neighborhood, for all the care and support given to Mary during her time there.
No visitation will be observed, and private interment will be held in Laurel Hill Cemetery. Arrangements are under the care of the Dusckas-Martin Funeral Home & Crematory Inc. 4216 Sterrettania Rd.
Memorial contributions may be made to either, Grace Church 7300 Grubb Rd. McKean, PA 16426 or the Barber National Institute 100 Barber Place Erie, PA 16507