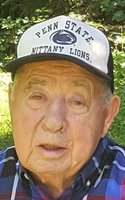 John H. Granahan
Headline: Loving, caring husband, father and grandfather.
John H. Granahan, age 95, of Spring Hill Senior Living, died peacefully there in his sleep on Sunday May 5, 2019. He was born in Erie on July 18, 1923 a son of the late Frank T. Granahan and Henrietta Zimmerly Granahan. In addition to his parents, he was preceded in death by his wife in 2016, Kathleen Harvey Granahan whom he married in June of 1949 and four brothers: James, Donald, Thomas, and Lou Ferrington.
John was a 1941 graduate of Academy High School, where he excelled at wrestling and ice hockey. He furthered his education at Penn State University graduating in 1949 while playing ice hockey and lacrosse. John had a career in sales engineering with Copes Vulcan and Zurn Industries where he traveled internationally to Europe and South America. He was a life member of St. George's Roman Catholic Church and was an avid golfer, gardener and nurseryman throughout his adult life. John enjoyed the benefit of a long and healthy retirement for which he was always grateful and took full advantage of by traveling to visit his children and friends across the US including a visit to his ancestral Ireland.
He is survived by two sisters, Winnifred Southworth and Betty Fidorra both of Erie; one daughter Kathleen E. Sleeper (Gary) of Dallas, TX; two sons, James P. Granahan (Bridget) of Erie and Mark E. Granahan and his wife Karen of Allentown, PA and their children, Keelin Granahan of Dallas, TX, Kate Granahan of Hoboken, NJ, and Ryan P. Granahan of Philadelphia, PA.
Funeral services were private and held at the convenience of the family with interment in Laurel Hill Cemetery. Arrangements were under the care of the Dusckas-Martin Funeral Home & Crematory Inc. 4216 Sterrettania Rd.