We pride ourselves on the functionality and appearance of our facilities. We are constantly updating and improving our premises and equipment to keep our facility within the highest of professional standards.
Whether it is our Chapel, Visitation Rooms, Coffee Lounge, or Reception Facilities, the flexibility of our layout allows us to accommodate a broad range of services. Our facilities can support everything from very large assemblies to the smallest of quaint gatherings.
Simply choose from the menu on the left to learn more about the individual features of our facilities, and the reason why the Dusckas - Martin Funeral Home is known as leaders in our profession.
The funeral is an important opportunity to pay tribute to someone you loved. It is a time for relatives and friends to gather tell stories, to share memories, to acknowledge your loss and support one another. We are open-minded in providing a more personal arrangement to suit your needs and reflect the life of your loved one.
We've worked hard to make the surroundings as comforting as possible, for you during this difficult time. Dusckas Martin Funeral Homes prides itself on having one of the best and most accomodating funeral homes in the Erie, PA area. Below are more details about our facilities at Dusckas Martin Funeral Home.
1. Children's Interactive Room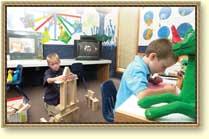 The Children's room is designed to help children deal with the loss of a loved one by allowing them to express themselves. The Dusckas-Martin Funeral home believes that children too, need to grieve. What is offered is a large carpeted cheerful room with a dry-erase board that children can draw a memory that they had with the departed loved one, an activities table that children can write a letter to the departed love one and possibly place the letter with the departed prior to the burial (letting the child know that they too are an important part of the family). Also, a TV with a VCR and cheerful Disney movies offer children a chance to unwind from the stressful atmosphere that funerals have the tendency to do. All in all, the DMFH simply believes that children should be allowed to express their feelings as adults when a loss occurs.


2. Selection Room

The selection room at DMFH allows families to enter the area with little anxiety because they will not be overwhelmed with large merchandise, rather, they will be introduced to a room that offers a wide array of corner sample caskets with pullout drawers which show interior colors and fabrics. Prices and a description of the casket are displayed so that families have the information displayed should they have questions. We feel at DMFH that this enables families to be interactive with selections and ask important questions in a very relaxed atmosphere. There is also a selection of men's and women's clothing available for families to choose from for the deceased is they desire. The cremation selection room also offers a wide selection of urns and urn keepsakes that families can choose from. Prices are clearly marked, and a description of the urn is displayed. Urn merchandise is either of precious metal, sculpted hardwood, or Urn/Vault combination Marbelon available for selection.
3. Grave Marker Studio
The DMFH exclusively offers its families grave markers. We eliminate the "middleman" thus being able to offer stones at a fraction of the competitor's prices. Stones are ordered from a unique quarry that offers the consumer elegant and dignified patterns that families can be proud of. Choose from many different engraving patterns that will make your selection a lasting tribute to the departed. Burial vaults for caskets and urns are also displayed so families know that they have many options should burial be needed. There are many displays showing the process of a burial throughout the selection room to educate families prior to vault selection. We here at DMFH feel that families, when making selections and decisions, need to be educated and informed of the products we have, where selection is concerned.
4. Keepsake Remembrance Studio

We have a most unique studio designed to offer products to remember the departed. There is a wide selection of keepsakes such as porcelin figurines, crucifixes, solid brass and solid bronze miniature urns that can be filled with a small amount of cremated remains, beautiful eternal light candles, United States Flag cases made of solid hardwood, and the ever popular "Thumbies", which are an impression of the loved ones finger print, transferred to a small nickel sized pendant that is attached to a gold chain. Most important, the Studio offers literature in the form a brochure or books that help explain the feelings survivors may have when a loss occurs. There is an emphasis for helping children deal with death.



5. Interior Comforts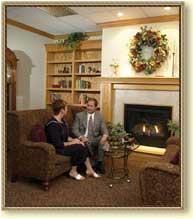 The DMFH by far will exceed your expectations in feeling welcomed. There is truly a warm feeling as soon as you enter the facility. Beautiful warm colors will immediately calm you as you "flow" into a family room with comforting sofas surrounding a gas log fireplace, solid oak bookcases, and an intriguing grandfather clock, all designed to give you a true feeling that "YOU ARE ALL WELCOME TO MAKE YOURSELF AT HOME." When entering the visitation rooms, we have 3 that are decorated with tasteful décor. Dual stain glass windows illuminate the room that features ample space for families to customize the remembrance of the departed.
6. Exterior of the Funeral Home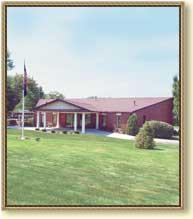 The funeral home is by far an architect's work of art. Ample parking, meticulous landscaping to once again give families the opportunity to walk around the grounds to "get away" if needed. There is even a side courtyard for families to gather. The day of the funeral is easily accommodated if a procession needed, because of the wrap around driveway for automobiles to follow.
7. Preparation Room

The preparation room at the DMFH is state of the art. Two embalming stations with the best equipment the industry offers awaits the licensed technician. White tiled floors and walls, stainless steel fixtures, an electric chain body hoist, 3 dressing tables, and easily accessible cabinets fully supplied with Dodge embalming fluids and mortuary products.
8. Parlors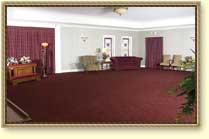 Each of the three parlors at Dusckas-Martin Funeral Home provides a comfortable space for the families to greet and comfort friends and family. The size of the parlors allows families to personalize the rooms as a remembrance to their loved ones.