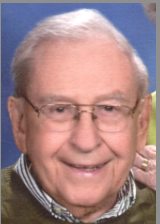 Share Your Memory of
Howard
Obituary of Howard Lefever
Howard David Lefever, age 95, of Erie, passed away peacefully on Thursday March 30, 2017. He was born December 12, 1921, son of the late Howard Leroy and Amelia Fruth Lefever in Jefferson Center, (Butler Co.) PA.
He graduated from Butler High School and went to Westminster Choir College, Princeton, NJ, where he graduated in 1947. While there he sang with the Westminster Choir. During WW II he served in the Armed Forces in the Signal Corp Branch of the Army. While on the island of Okinawa he served as Chaplain's Assistant. He served at the First Presbyterian Church of the Covenant as Minister of Music for fourteen years, retiring in 1987. Prior to coming to Erie, he also served at Presbyterian Churches in Richmond, VA, Columbus, OH, Des Moines, IA and Pittsburgh, PA, for a career of 40 years directing church choirs and serving the Lord with song. He organized many trips for his high school and adult choirs throughout Europe and the United States. For several years, he was regional director of the American Guild of English Handbell Ringers. After retirement, he was active with the Meals on Wheels program for fourteen years delivering meals and serving on the Board of Directors. Howard was a very active Kiwanian for 50 years, 29 of which were with the Erie club. He received the distinguished Kiwanian award, the Legion of Honor and the Hixson award. He also organized and directed the Kiwanis Boy Choir. Enjoying sports was one of his passions especially cheering on the Pirates and Steelers.
Howard was preceded in death by his first wife, June Parker Lefever in 1977; sister, Marion Patterson of New Symrna Beach, FL; brother, Gene Lefever of Renova, PA and stepdaughter Mary Scott of Kensington, CA.
Survivors include his loving wife, Susanne M. Lefever; three daughters Susan (Donald) Eoff of O'Fallon, MO, Carol (Robert) Ernhoffer of Washington Twp., and Wendy Seman of Tarrs, PA; three stepchildren, Nancy (David) King of Cabot, PA, John (Linda) McDermott of Knoxville, TN and James (Christy Joy) McDermott of Pasadena, MD; fourteen grandchildren and four great-grandchildren.
Howard loved his family and friends and enjoyed spending time with them. Many young people and adults loved him and were influenced by him through his ministry of church music. He was known for his gentle manner, humor and caring spirit. He will be greatly missed. The family would like to thank the staff at St. Mary's Home at Asbury Ridge for their loving and excellent care of Howard.
Friends and family may call at the Dusckas-Martin Funeral Home & Crematory Inc. 4216 Sterrettania Rd. on Friday April 7, 2017, from 4:00 to 7:00 PM and are invited to a funeral service at the First Presbyterian Church of the Covenant, 250 West 7th St. Erie, PA on Saturday April 8, 2017 at 11:00 AM. Burial will take place in Saxonburg Memorial Church Cemetery in Saxonburg, PA.
In lieu of flowers memorial contributions may be made to either, Kiwanis Club of Erie, P.O. Box 3715 Erie, PA 16508 or the First Presbyterian Church of the Covenant (Ministry of Music Dept.).