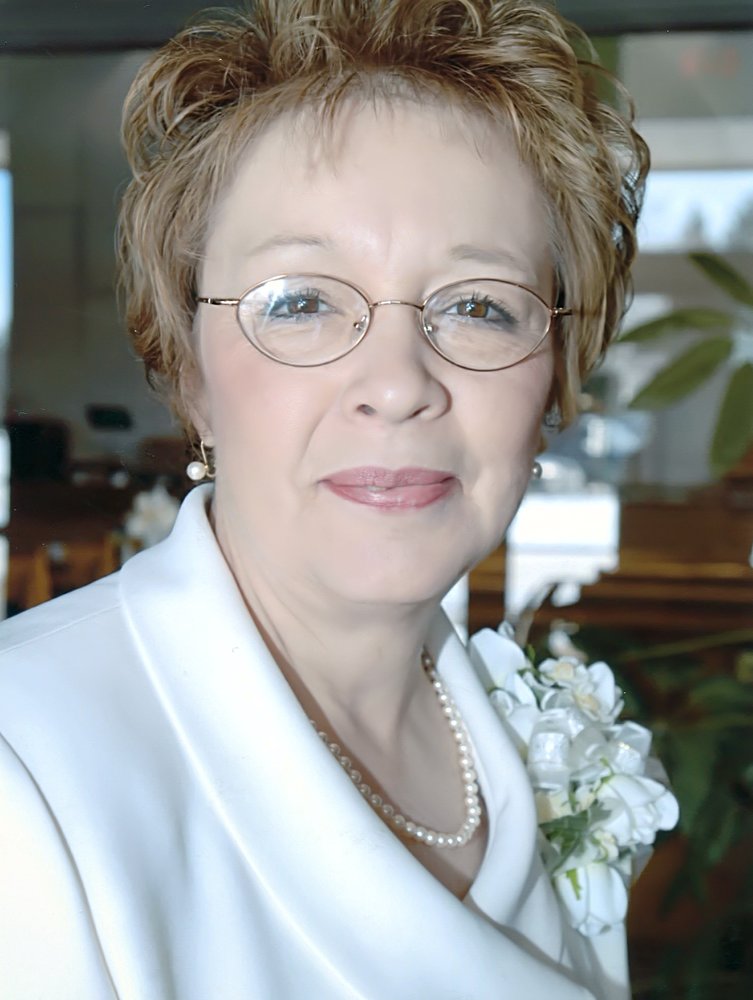 Share Your Memory of
Janice
Obituary of Janice Schau
c
Janice L. Oliver Schau
Janice L. Oliver Schau of Millcreek Twp. passed away peacefully at her daughter's home on Thursday, December 7, 2017 after a 12-year courageous battle with cancer. Her loving children and their families surrounded her. She was born July 21, 1945, the daughter of Catherine A. Hickel Oliver and the late Charles D. Oliver.
Jan graduated from McDowell High School in 1963 and attended Kent State University. After raising her children, she worked for the Rehrig Pacific Company in Erie, PA for 26 years. She was a receptionist and office manager by title. To many, a second mom, a welcomed voice to talk to when you were on the road, a special event coordinator who was second to none, a warm conversationalist, an ambassador for guests, and a true friend to many people at Rehrig. Working at Rehrig Pacific brought her great pride and joy. The employees of Rehrig were not only her friends but also her second family, especially Will Rehrig. Their love, friendship, and support gave her strength in fighting her battle with cancer.
Jan was a beautiful soul in every sense of the word. Her kindness and compassion for others shined through in everything she did. She always put others ahead of herself as she cared for her parents, sisters, children, grandchildren, and friends. In addition to caring for others, Jan enjoyed long walks at Presque Isle, listening to music, baking cookies and cakes, and attending her grandchildren's school and sporting events. Her family and friends loved her chocolate chip, snickerdoodle, and gingersnap cookies.
Throughout her long and difficult battle, Jan greatly appreciated the care and comfort provided by her doctors and nurses of the Cleveland Clinic, including Dr. Michael Fritz, Dr. Joseph Scharpf, and Ms. Wendy Kring, as well as her Erie physicians, Dr. Jillian Halmi and Dr. Ruth Ann Lipman. Jan was also very thankful for the tender loving care of her home health nurse, Bonnie; her Hospice nurse, Rhona; along with all the caregivers of Lakeland Area Hospice, as well as Father Dennis and Father Jason. Additionally, Jan had great appreciation and fondness for her loving extended family and friends, especially Doris Causgrove (cousin) of Erie, Betty and Steve Grappy of Erie, and Jim and Joan Kiehl of Venice, Florida, whose unwavering love, support, and friendship, gave her strength and courage that comforted her throughout her life.
She is survived by her mother, Catherine A. Oliver; her daughters, Christine (Matt) Sutliff of Twinsburg, Ohio; Sandra (Bob) Means of Millcreek; and son, Richard C. Schau of Millcreek. She is also survived by her sisters, Judy (Dennis) Hengen of Torrance, California; Carol Robertson of Everett, Washington; Kathy (Brad) Schaefer of Fairview, PA; and her sister-in-law, Carol (George) Miller of Indian River, Michigan. Affectionately known as Grandma Jan, she will be deeply missed by her loving grandchildren, Abby, Grant, and Troy Sutliff; Owen and Olivia Means; and Eric and Ellie Schau. Furthermore, Jan had many loving nieces, nephews, and cousins who played an important role in her life.
All who were blessed to know Jan will miss her. She was one of God's greatest creations, and this world is a better place because of her. Jan was a member of St. Jude the Apostle Church and was very strong in her faith.
Friends and family may call from 3:00 p.m.– 8:00 p.m. on Sunday, December 10, 2017 at the Dusckas-Martin Funeral Home and Crematory, Inc., 4216 Sterrettania Road, Erie, PA 16506. A prayer service will be held at the funeral home at 8:45 a.m. on Monday, December 11, 2017 followed by a Celebration of Life Mass at 9:30 a.m. at St. Jude the Apostle Church, 2801 West Sixth Street, Erie, PA 16505. Burial will follow at Gate of Heaven Cemetery.
In lieu of flowers, memorial gifts for head and neck cancer research may be made to the Cleveland Clinic Head and Neck Institute, fund 30-056253 and be forwarded to Cleveland Clinic Foundation, PO Box 931517, Cleveland, OH 44193. Donations on behalf of Jan may also be made to Lakeland Area Hospice, 2221 Peninsula Drive, Erie, PA 16505.