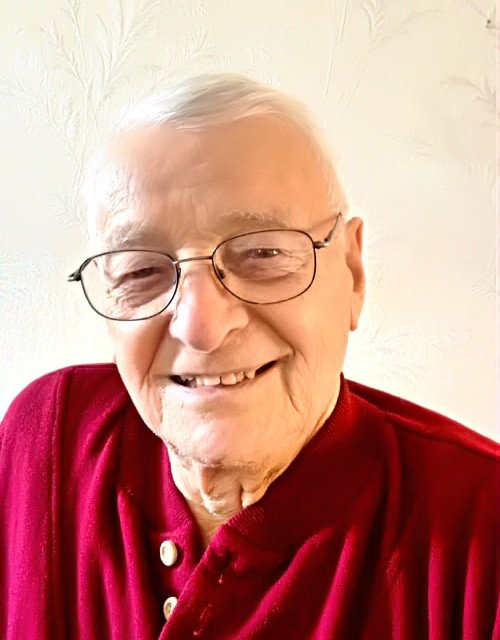 Share Your Memory of
Henry
Obituary of Henry Bender
1
HENRY SIMON BENDER
January 19, 2018
Henry "Hank" Simon Bender, 94, passed away peacefully with family by his side on Friday, January 19, 2018, in Greenville, SC. He was born on December 20, 1923 in Erie, PA, a son of the late Michael and Margaret Bender. He retired from the US Postal Service in 1979 after having worked as a mailman in Erie for 30 years. For the past 2 years, Henry lived with his son Fred and his wife Martha at their home in Greenville, SC, and more recently, he resided at NHC Nursing Home in Mauldin, SC. He regularly attended Renovation Church of Simpsonville. He enjoyed participating in many activities with friends at NHC, especially their music programs and plays. He enjoyed family events, going out for dinner, reading and working on his crossword puzzles.
Henry was a US Army veteran having fought in WWII. He enlisted in the Army on February 17, 1943 at the age of 19. He was promoted to the rank of Sergeant and became a Squad Leader in the Infantry and Heavy Weapons Operations. He participated in the invasion of Omaha Beach (day 2) and was wounded in action in Vire, France in 1944. His military decorations included 2 Purple Hearts and 4 Bronze Stars. In 2016, he was presented with the Army Coin of Service Excellence at a public ceremony in Greenville, SC.
In addition to his parents, he was preceded in death by his beloved wife of 60 years, Waltraud "Trudy" Bender, and son Michael Carl Bender. Henry is survived by his sons, Fredrick Bender, and his wife Martha, of Simpsonville, SC, and his son Gerald "Jerry" Bender, of Erie. Henry also is survived by his three grandchildren, Adrienne "Addie" Gilstrap, and her husband, Daniel, of Fort Gordon/Augusta, Georgia, Michael C. Bender, II, and his wife, Zameera, of Boston, Massachusetts, and Margaret "Maggie" Alexeeff and her husband Rudy, of Columbus, Ohio; 3 great-grandchildren, Ella and Molly Martha Gilstrap and Simon Bender; and numerous nieces and nephews.
Family and friends will be received on Thursday, January 25, 2018 from 2-5 PM and 7-9 PM at the Dusckas-Martin Funeral Home and Crematory, Inc., 4216 Sterrettania Road, Erie. A funeral service will be held on Friday, January 26, 2018 at 11 AM at the funeral home. Interment will follow at the Laurel Hill Cemetery, Erie. In lieu of flowers, the family requests that a memorial donation be made to the Juvenile Diabetes Research Foundation at www.JDRF.org.