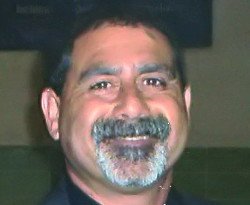 Share Your Memory of
Randy
Obituary of Randy Torok
Randy James Torok
Randy James Torok, age 56, while with his loved one, passed away following a brief illness on Saturday, January 13, 2018 in Huntsville, AL. He was born on May 8, 1961 in Erie, the son of Ann Montagna and the late Frank Edward Torok.
Randy graduated from McDowell Sr. H.S. in 1979 and was employed by the City of Erie Public Works for 36 years, where he was a member of the Teamsters Union #397. Randy was a club member of the Commodore Perry Boat Club, the Elks Club, the American Legion, and the Sunflower Club.
Recently retired, he relocated to Athens, AL to be near his daughter.
He enjoyed cooking and spending dinners with family and friends. He loved trying new recipes and anxiously waited for everyone's approval. He also loved listening to Dean Martin and Frank Sinatra music while cooking on Sundays. He loved spending time outdoors, walking, hiking, sitting out on his balcony, and spending time on his boat. He also enjoyed spending time with his cat Punky. His new-found passion was driving his new sports car and discovering new places around his new home and being near his daughter. Randy was an avid reader and a big fan of collecting and watching Martin and Lewis movies.
Besides his mother Ann Montagna-Torok, he is survived by his beloved daughter and son; Lyndsey Nicole Torok of Harvest, AL and Brandon Victor Torok (Jennifer Learn) of Erie, his brothers: Frank Torok (Pam), Joe Torok (Kathy), his sisters; Gina McCafferty and Tina Torok (John Bizzarro), his granddaughter Faith Miriah Torok, his loving companion Rose Chludzinski, nieces and nephews: Sarah Torok-Gerard (Gus), Jaime Cupps (Craig), Joseph Ryan Torok, Angela and Amanda McCafferty, godson/nephew Joseph Bryan and great nephew Grayson Cupps.
A special thanks to friends Richard and Sherry Willis of Athens, AL, who were by his side along with his daughter providing him with love and comfort during his final days.
He was preceded in death by his father in 2005 and a brother-in-law in 2015.
Friends may call at the Dusckas-Martin Funeral Home and Crematory, Inc., 4216 Sterrettania Rd. on Sunday, January 28, 2018 from 1:00 p.m. until time of a Memorial Service there at 3:00 p.m.
In lieu of flowers, memorial contributions may be made to the American Cancer Society, 2115 West 38th Street, Erie, PA 16508.