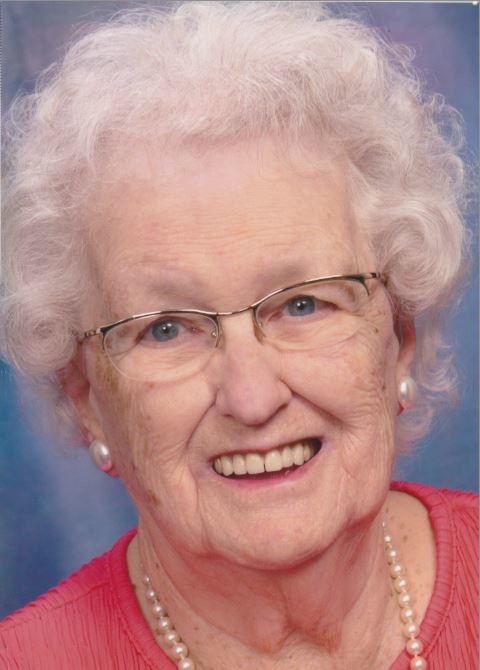 Share Your Memory of
Wilda
Obituary of Wilda Hammer
1
Wilda Steele Hammer, age 97, of Millcreek, was promoted to Glory on Thursday, April 26, 2018 at St. Mary's at Asbury Ridge. She was born in Plainfield, OH on January 2, 1921, daughter of the late Emery and Mary Steele.
Wilda's father was a Methodist minister, who died when she was 13 years old. She was the second of six children. After high school, Wilda attended Cleveland Bible College for 2 years. She married Norman in 1941, and they were married for 59 years until Norman's death in October of 2000. She was a member at Weis Library Church for most of her life. She sang in the choir for many years and also taught Sunday School.
Wilda was a homemaker for many years, but worked several part-time jobs, her favorite being at Rusterholtz Bakery where she learned cake decorating. After the bakery closed, she made wedding cakes for several years from her home. She volunteered to do sewing at the Erie County Home with women from her church. Wilda and Norman enjoyed winters in Cape Coral, FL for about 15 years. She liked reading, needlepoint, crafts, and traveling.
Wilda is survived by two daughters, Nancy Quigley (Edward) and Normajean Hammer; two sons, James Hammer, and Sherman Hammer (Rochelle); one sister, Ruth Berringer; nine grandchildren, nine great-grandchildren, five great, great-grandchildren and nieces and nephews. Besides her parents, Wilda was preceded in death by her husband, Norman H. Hammer; two sisters, Barbara Carr and Mary Jane Underwood; two brothers, William Steele and Paul Steele.
The family would like to thank the staff at St. Mary's at Asbury Ridge for their wonderful care and devotion.
Friends may call at the Dusckas-Martin Funeral Home and Crematory, Inc., 4216 Sterrettania Road on Monday from 6 to 8 pm. Further visitation will be held there on Tuesday from 10 am until the time of the Funeral Service at 11 am. Interment will follow at Weis Library Cemetery. Memorial contributions may be designated to the Weis Library United Methodist Church, 6020 Heidler Road, Fairview, PA 16415.