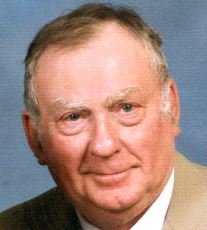 Share Your Memory of
Willis
Obituary of Willis H. Alstadt
Willis H. Alstadt
Willis "Whitey" H. Alstadt, age 94, of Millcreek Twp., passed into the arms of his Savior on Saturday, June 9, 2018 at Pleasant Ridge Manor. He was born in Erie on December 17, 1923, the son of the late Ernest and Minnie Friedrich Alstadt. He graduated from East High School and was hired at the Hammermill Paper Co. in 1942. Later that year, Willis joined the US Army Air Corps. He served as a radar scope operator with the 435th Fighter Control Squad in Italy and was honorable discharged on November 9, 1945. Willis resumed employment at Hammermill and retired after 47 years of service.
On December 13, 1975, Willis married Elizabeth Carlucci. They were the best of friends and sweethearts until Elizabeth passed away on February 1, 2015. Willis was known for his generosity, kindness, his extreme punctuality, and his deep affection for children and animals (especially his cat "Poulo"). He enjoyed the simple pleasures of life, Frank Sinatra's music, and the old classic movies. Willis was a member of Grace Church and served as an usher until he acquired a physical disability.
In addition to his parents and Elizabeth, Willis was preceded in death by his loving aunt (Katherine Friedrich) and his former spouse, Norma Alstadt.
Willis is survived by his sons; Lynn Alstadt (Nancy), Randy Alstadt (Barbara), his grandchildren; Jeffrey, Andrew (Ashley), Jacob (Sarah), and Courtney Alstadt and his great-grandchildren; Bentley and Chance. He is further survived by his stepchildren: Nancy Carlucci, Patricia Territo (Al), William (Mary), Paul (Carol), and Jeffrey Carlucci, and two step-grandchildren; Stephen and Jonathan Carlucci. The Alstadt and Carlucci families wish to thank the Pleasant Ridge Manor staff and are deeply grateful for their loving and above and beyond care for Willis during his stay. We also extend special thanks to Marvin and Joanne Holst and Pastor Dick Page of Grace Church for their faithful visits to Willis over the years.
Friends may call at the Dusckas-Martin Funeral Home and Crematory, Inc., 4216 Sterrettania Rd. on Wednesday, June 13, 2018 from 4 until 7 p.m. and are invited there on Thursday, June 14, 2018 for the Funeral Service at 10:00 a.m. Private interment Erie Cemetery.
Memorial contributions may be made to the charity of one's choice.