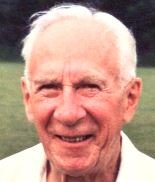 Share Your Memory of
Howard
Obituary of Howard Trampenau
Howard F. Trampenau
"I have slipped the surly bonds of earth"
Howard F. Trampenau, age 102. of Erie, PA, passed away at the Sarah A. Reed Senior Living Center on Monday, June 18, 2018.
Howard was born in Erie on February 2, 1916 the son of the late Frederick Trampenau and Monica Martz Trampenau. Besides his parents, he was preceded in death a son Richard Trampenau, sisters; Charlotte Trampenau Boehm, Edith Trampenau Benson, Dorothy Trampenau Bauer, a brother Theodore Trampenau, and a daughter in-law Susan Groh Trampenau.
Howard attended Academy High School and completed an apprenticeship as a printer for the International Typographical Union. He worked for the Erie Dispatch Herald and the Elmira, NY Star-Gazette in the composing room laying out the pages of the newspaper and operating the "eighth wonder of the world" the Linotype Machine.
Howard enlisted in the Army Air Corps during WWII; serving as a pilot and achieving the rank of Lieutenant. Besides family and work, his life- long passion was flying and aviation. During the war, he was an advanced flight instructor; flying the AT-6 "Texan" teaching many young men to fly and they in turn flew fighter planes and bombers over Europe and the Pacific. Howard would say "we churned those kids out, flight training was nearly as dangerous as flying over Germany". While instructing, he had to bail out of his damaged AT-6 "hit the silk" and land by parachute breaking ribs in the process.
Howard continued flying after the war as a hobby; mainly gliders and sailplanes from the famous "Soaring Capitol of America" Harris Hill in Elmira, NY. Howie, as he was known by everyone at Harris Hill, served as treasurer, board member, and summer operations manager along with many years instructing in the junior membership program. Over the years he built his own high-performance sailplane and two different 2-seater powered aircraft. He had over 7,000 hours flight time as a pilot. Other hobbies included (of course) building and flying model airplanes, photography, woodworking, and gardening. Later in life he enjoyed visiting family with wife "Rainey" in California, Colorado, and North Carolina.
Howard is survived by his devoted and loving wife of 75 years Mary Lorraine Hannon Trampenau, sons Robert E. Trampenau, Santa Barbara, CA and Timothy G. Trampenau, McKean, PA. Sisters; Vera Trampenau Barna and Jean Trampenau O'Camb, many grandchildren, great- grandchildren, nieces, and nephews.
"Gliders and sailplanes are wonderful flying machines. It's the closest you can come to being a bird". Neil Armstrong
Family and friends may call at the Dusckas- Martin Funeral Home and Crematory, Inc., 4216 Sterrettania Rd. Erie, PA from 2-5 pm and 7-9 pm on Friday June 29, 2018.
A graveside service will be held at Laurel Hill Cemetery on Saturday June 30, 2018 at 10 am. The family wishes to thank the staff at Sarah A. Reed for their empathy and kindness.