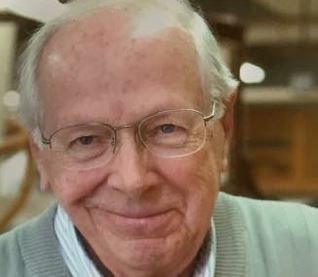 Share Your Memory of
Louis
Obituary of Louis Sahlmann
Louis Henry Sahlmann
Louis Henry Sahlmann, age 91, went home to the Lord on June 26, 2018 in Fort Myers, Fla., leaving family and friends to remember his brilliance, quick wit, artistic talent, and profound love and pride for his large family. He will be missed by many.
Lou was born in Schenectady, NY on April 10th, 1927 to Frank L. and Erna R. Tiemann Sahlmann. He graduated high school from Erie Academy in 1945 and served in the United States Navy during World War II. After serving, he attended Purdue University where he obtained his BS in Electrical Engineering. He was elected to Eta Kappa Nu Honorary Scholastic Fraternity and was a member of Beta Sigma Psi National Lutheran Fraternity. He found true love and happiness for 57 years with his wife and soulmate Marion, leading to five children, 12 grandchildren, and 17 great-grandchildren.
Lou devoted his professional career to General Electric Co. and Zurn Industries where he retired after 30 years as Group Vice President, responsible for 11 Companies/ Divisions in 7 different locations across the country. Throughout his life, he served as a Board Member for several organizations and non-profit entities, including Saint Vincent Health Systems- Board of Incorporators, VP Chair of Building Committee, Erie Manufacturers Assoc. Board of Governors, Erie Center for the Blind, Florence Crittenton Home for Young Mothers, and as President for the Fort Myers Home Owners Association.
Lou was also active in his church and Erie and Fort Myers communities. He attended Church of the Cross in Erie and Westminster Presbyterian in Fort Myers. He was also a member of American Society of Mechanical Engineers, Lake Shore Country Club, Aviation Country Club, Erie Maennerchor Club, and Past President of the Presque Isle Rotary Club.
Lou's brilliance found many outlets. He was a prodigious reader, an avid traveler, a lifelong learner, and a talented woodworker and painter, especially of wildfowl. He shared his talent of woodworking by volunteering with Santa's Helpers, making wooden toys for underprivileged children in Erie County.
Lou was preceded in death by his beloved wife Marion Ann Johnston, his son Kurt Sahlmann, and his sister Ruth E. Klins. Surviving are his four children: Leslie Finkbeiner and her husband, John; Matthew Sahlmann and his wife, Beth; Patty Venture and her husband, Ray; Nancy Tower and her husband, Chris; and his late son Kurt's wife, Kathy; twelve grandchildren: Dustin Sahlmann, John J., Joshua, and Jeremy Finkbeiner, Jason Venture, Jennifer Gilroy, Angela Venture, Andrew Sahlmann, Daniel Tower, Amy Burniston, Gregory and Jonathon Tower; and seventeen great-grandchildren.
Friends may call at the Dusckas-Martin Funeral Home and Crematory, Inc., 4216 Sterrettania Rd. on Saturday, July 28, 2018 from 12:30 p.m. until time of Memorial Service at 2:00 p.m. Private Interment.
In lieu of flowers, memorial contributions may be made to Church of the Cross Building Fund, 5901 Millfair Rd., Fairview, PA 16415, Santa's Helpers, 1253 West 12th Street, Erie, PA 16501 or to the Erie City Mission, 1023 French Street, Erie, PA 16512.