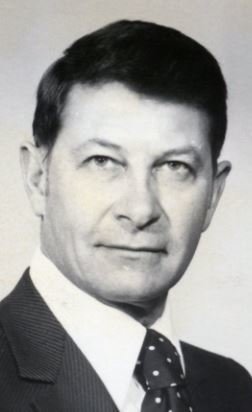 Share Your Memory of
Daryl
Obituary of Daryl G. Severin
Daryl G. Severin, age 96, of Springhill Senior Living Community and formerly of Fairview Twp., passed away on Thursday October 4, 2018. He was born on April 7, 1922 in Imperial, Nebraska, son of the late Everett and Gladys Case Severin. In addition to his parents he was preceded in death by his wife of 69 years Lila Severin in 2016 and his brother and sister-in-law, Eugene and Clara Severin.
He graduated from York College in Nebraska with a Bachelor's Degree in Psychology and earned his Master's Degree and PhD in Psychology from Ohio State University on the GI Bill. While attending Ohio State, he also taught there and did research on accelerated learning for the US Navy. He proudly served his country in the US Navy during WW II on a Landing Ship Tank as Gunnery Officer and Executive Officer in the Atlantic and European Theaters. Daryl spent most of his civilian life working in industry in human resources. He began his career as a management consultant with an international consulting firm. Subsequently, he became Executive VP of an Erie based Conglomerate Company consisting of: Erie Technological Products, Lyons Transportation Lines, and Eckerd Drugs. He later worked with local industry, forming his own management consulting firm, Analytic Resources, Inc. He served on the Board of Trustees at Mercyhurst University, American Turned Products, Assembly Machines, Inc., and Erie Technological Products.
His favorite activities were tennis and landscape projects in his own back yard and those of neighbors and friends. He enjoyed lifelong learning with particular interests in astronomy, physics, politics, evolution, religion, economics, and all global current events.
He is survived by one daughter Lee Ann and her husband John Stekla, their two children Megan and David, niece Shelley Severin, nephew Larry Severin, and nephew Bob Meany.
Arrangements are entrusted to the Dusckas-Martin Funeral Home & Crematory Inc. 4216 Sterrettania Rd. Erie, PA. Gravesite services and interment will be held at Laurel Hill Cemetery on Saturday, November 17, 2018 at 11:00am.
Memorial Contributions may be made to "Springhill Resident Council-Associate Appreciation Fund" and mailed to Springhill Senior Living, 2323 Edinboro Rd, Erie, PA 16509, in honor of Daryl Severin and in gratitude to all the employees from Springhill that took such loving care of him in his last years and moments of his life. To them we are eternally grateful.