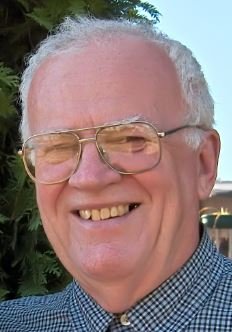 Share Your Memory of
Eugene
Obituary of Eugene Rachocki
Eugene Rachocki, 84 and a lifelong resident of Erie, PA, passed away on Friday, March 15, 2019 at Pleasant Ridge Manor. He was the son of the late Joseph and Emily (Potocki) Rachocki. Eugene was born on August 17, 1934 in Erie. He was a graduate of East High School and attended Alliance College in Cambridge Springs, PA where he received an associate degree in engineering. In July of 1955, Eugene married his high school sweetheart, Dorothy (Simanowski). As a newlywed, Eugene continued his education at Gannon College while working for Swanson Erie.
Eugene was both and inventor and an entrepreneur. As an employee of Zurn Industries LLC, he invented and patented designs for a valve, a bilge pump, and a boarding ladder, assigning all property rights to his employer. In the late 60s, he formed Ray-Ton Industries, manufacturing those same ladders in addition to boat paddles and hooks, and supplying them to fill Zurn purchase orders. After selling Ray-Ton Industries, he formed Erie Molding and Assembly, Inc., a plastics injection molding company in 1990. He retired from Nu-Tek Plastics.
Gene was a jack-of-all-trades. He enjoyed all aspects of home repair and spent weekends learning masonry while renovating and remodeling several properties. In 1970, he turned his focus on 918 Parade Street and opened an independent grocery store, the Blue Ribbon Market, in tribute to his father who, with his mother, owned the original Blue Ribbon Market at that address during the Great Depression. Polska Kielbasa made from the recipe his father had brought from Poland was a Blue Ribbon specialty.
Gene will be fondly remembered for his sense of humor, his love of polka music, and his wild enthusiasm for dancing the polka.
Besides his father and mother, Eugene was preceded in death by his wife of 59 years, Dorothy; granddaughter, Elizabeth Lasher; brother, Elmer Rachocki of Columbus, OH; and son-in-law, Wallace Hunt. He is survived by his children Cynthia Lasher of Brunswick, ME; Deborah Hunt of North East, PA; Lynn Ross (Jeff Reigel) of Erie, PA; and Greg Rachocki (Jennifer) also of Erie. Gene is also survived by his grandchildren, Anne Lasher (Meddie Serwanga) and James Lasher (Tanya Tsay), Courtney and Kristen Hunt, Stephen Donahue and Justin Ross, and Logan Rachocki, and by great-granddaughter, Adrianna Donahue. In addition, Gene is survived by his brother, Leslie Rachocki (Elaine) of Cleveland, OH and sister-in-law, Joan Sisco Rachocki of Columbus, OH and St. Louis, MO, as well as many beloved nieces and nephews.
Friends and family are welcome to visit the Dusckas-Martin Funeral Home & Crematory Inc., 4216 Sterrettania Rd. on Tuesday, March 19, 2019 from 6 to 8 p.m., and to join the Rev. Msgr. Bernard J. Urbaniak at the funeral home in a Blessing Service in Celebration of Eugene's Life on Wednesday March 20, 2019 at 10:00 a.m. Interment at Gate of Heaven Cemetery.
The family would like to express their sincere thanks to the staff who made the effort to make Dad comfortable during his time at Pleasant Ridge Manor.
In lieu of flowers, memorial contributions may be made to, The Friends Forever Fund at Pleasant Ridge Manor West, 8300 West Ridge Rd., Girard, PA 16417, The Alzheimer's Association: Greater Pennsylvania Chapter - Erie Office 1600 Peninsula Dr., Suite 15, Erie, PA 16505 or The Erie Humane Society 2407 Zimmerly Rd., Erie, PA 16506.
To send flowers to the family of Eugene Rachocki, please visit Tribute Store