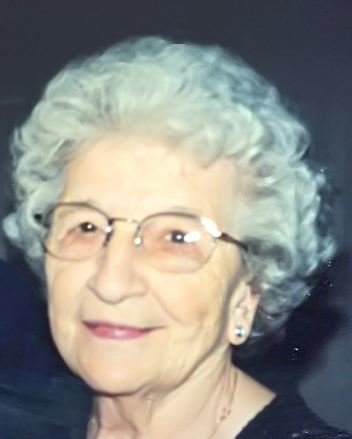 Share Your Memory of
Catherine
Obituary of Catherine A. Oliver
Catherine A. Hickel Oliver
"Katie"
Catherine A. Hickel Oliver, 98, of Millcreek, passed away peacefully of natural causes on May 2, 2019
at Forestview Skilled Nursing Center. She was born in Erie on October 31, 1920, the daughter of the late Ignatz and Anna Zivic Hickel, and the younger sister of Steve and Charlie Hickel, Annie Hickel Agnello and Mary Hickel Otteni.
Katie graduated from Millcreek High and at the age of 18, she married Charles Oliver, beginning a great love story that lasted for 68 years. Katie was a wonderful homemaker and the matriarch of the family. She loved to cook family dinners, host holiday events, make rolls from scratch as well as bake cookies, cakes, breads, and pies. Her baking was second to none and left everyone always wanting more apple, blueberry, and chocolate cream pies. Katie loved to pick berries and was a master jelly and jam maker. She loved to laugh at jokes, play cards, work in the garden, and attend her grandchildren and great-grandchildren's school and sporting events. She set the perfect example of how to be a loving wife and raise a loving family for her daughters, grandchildren, and great-grandchildren to follow. She was a life-long member of Our Lady of Peace Church.
Katie was very appreciative for the tender loving care and comfort that she received from her nurses and all staff members of Forestview during her residency. They became her extended family, and she was very fond of their friendship, the countless bingo games played together, social events, and craft making sessions.
Katie was preceded in death by her husband Charles Oliver; her daughters, Janice Oliver Schau and Carol Oliver Robertson. She is survived by her daughters Judith (late Dennis) Hengen of Los Angeles, California and Kathy (Brad) Schaefer of Fairview, PA. Affectionately known as Grandma O., she will be dearly missed by her 12 Grandchildren; Chrisy (Matt) Sutliff, Sandy (Bob) Means, Katie (Robin) Culp, Jenny Lucich, Rick Schau, Missy Gilbo, Jon (Amanda) Gilbo, Heather Gilbo, Bobby (Alison) Gilbo, Kerry Marshall, Shelly (Nick) Bernatowicz, and Holly Schaefer. In addition, Katie had 19 great-grandchildren who will miss her dearly.
Friends my call the Dusckas-Martin Funeral Home and Crematory, Inc., 4216 Sterrettania Rd., Erie, on Saturday, May 11, 2019 from 9:30-11:00 AM. A prayer service will be held at 11 at the funeral home followed by a Mass of Catholic burial at Saint Jude the Apostle Church, 2801 West 6th Street, Erie, PA 16505 at 11:30 AM. A private burial will follow at Gate of Heaven Cemetery.
Memorials may be made to the Alzheimer's Association, 1600 Peninsula Drive, Suite 15, Erie, PA 16505.