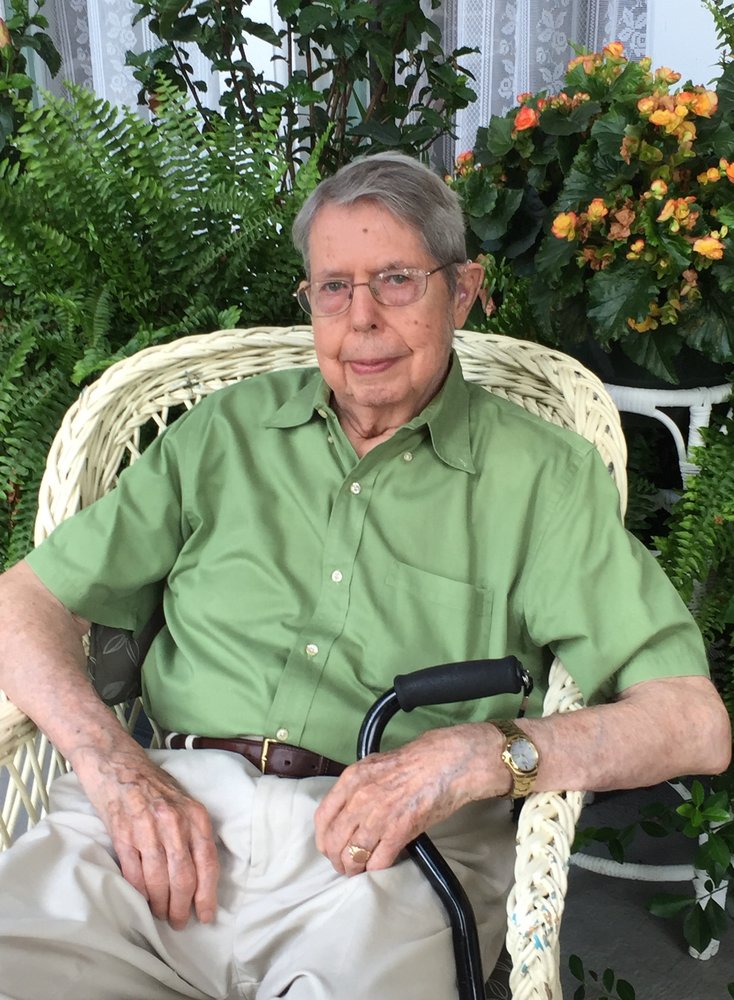 Share Your Memory of
Ernest
Obituary of Ernest Rexford Abbott
Ernest Rexford Abbott
December 9, 1920- September 7, 2019
Ernest Rexford Abbott 98, of Erie, Pennsylvania, died peacefully, surrounded by family, on September 7, 2019 at Brevillier Village's Ball Pavilion. Ernest, born on December 9, 1920 and originally from Sugar Grove, Pennsylvania, was the son of Olive Rexford Abbott and Frank Taylor Abbott. His first wife, Margaret Porter Abbott and their son, Bruce Porter Abbott, as well as his second wife, Deborah Philips Abbott, and his sister, Ruth Isabel Grant preceded him in death.
Ernest served in World War II and was a Normandy Veteran of the European Theater of Operations, where he served as an X-Ray technician with the U.S. Army's 50th General Hospital.
Following his military service, he worked at St. Vincent Medical Center as an X-Ray Technician and then the Erie Veterans' Administration (when it was housed in the Baldwin Building) as manager of the X-Ray department. Later he became Vice-President of Duggan Rider Office Supply Company from which he retired.
Ernest was a Renaissance Man with many talents and hobbies; he loved his cars and spent years restoring a 1939 Desoto and drove it in numerous parades and displayed it at car shows with fellow members of the Presque Isle Chapter of the American Automobile Club. He also enjoyed what he called "puttering around" fixing, organizing, restoring, building, painting, reading, photography, traveling and collecting radios. He enjoyed his family, raising three children at the Hershey Road house. He had a green thumb and loved to revel in the fact that he planted "all those trees when he was young and foolish." His wisdom spans four generations, and he abided by the advice his father gave him, "Don't smoke, drink, and stay away from fast women." He will be greatly missed.
He is survived by his two daughters, Joan Ella Abbott and husband, Jay Prager of Groton, Massachusetts and Beth Olive Knappenberger and husband, David of Swansboro, NC; daughter-in-law Carol Meola; stepson Hans Christopher Masing and fiancée, Darla Ester of Ann Arbor; grandchildren: Rachel Diane Abbott and boyfriend, Jim Cole of Erie, Lindsay Abbott Drayer of Erie, Amelia Abbott-Frey and fiancée, Justin O'Hare of New York City, Garrett Abbott-Frey and wife, Ashley of Raleigh, NC; Keller and Simone Masing of Ann Arbor; and, great granddaughters: Fern Cole, and Gwendolyn and Julianna Drayer.
Ernest's family would like to especially thank his team of caregivers: Brenda Hatcher, Becky Knappenberger, Melissa Menchetti, and John Arthur who assisted "Ernie" during his last years so he could remain at his home as long as possible as well as the many wonderful caregivers at Ball Pavilion.
A memorial service will be on Saturday, September 14, 2019 at 10 am at the McKean United Methodist Church, with a luncheon after the service. Burial will follow at the Turnpike Cemetery in Sugar Grove, PA. Arrangements are under the care of the Dusckas-Martin Funeral Home & Crematory Inc. 4216 Sterrettania Rd. In lieu of flowers, memorial donations may be given in Ernest's name to the Because You Care, Inc. Animal Rescue, 6041 West Road/P.O. Box 54, McKean, PA 16426 (814) 476-1212.