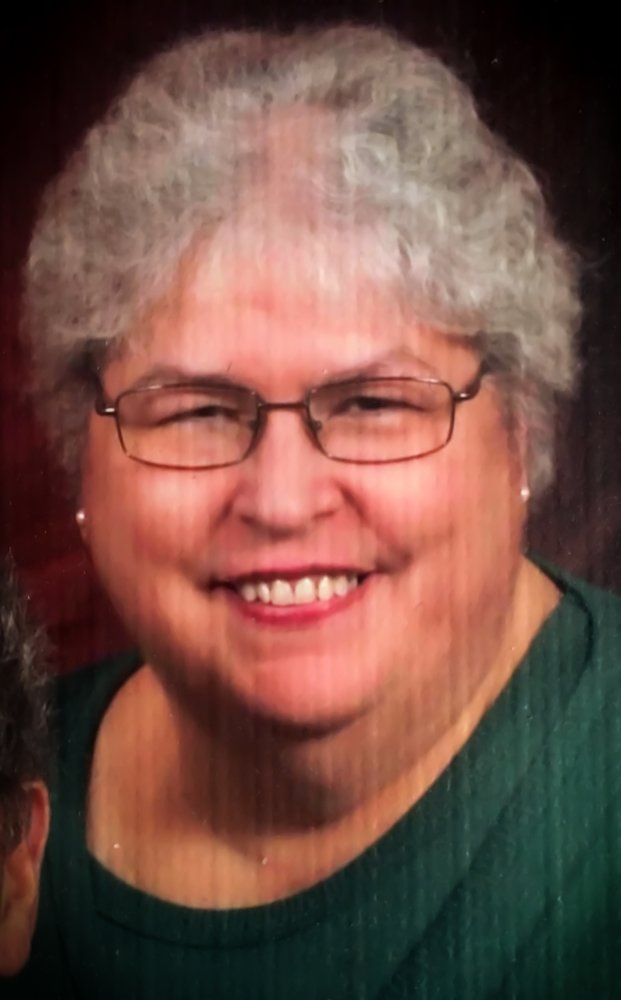 Share Your Memory of
Sharon
Obituary of Sharon Ann Armes
Sharon Ann Minor Armes
Sharon Ann Minor Armes, 75, passed away Saturday, October 19, 2019, at UPMC- Hamot. She departed surrounded by family, listening to John Rutter's Gloria, to join the sopranos in the Heavenly Choir.
Sharon was born December 20, 1943, in Columbus, OH, to William John Minor and Mary Ruth (Holmes) Minor. She graduated from Corry High School in 1961. She attended Waynesburg University and earned her B.A. in Music & Christian Education from Houghton College in 1968, studying voice, choir, piano, and organ. Following college, she served as choir director and organist for St. Paul's Lutheran Church, Berea, OH.
Sharon married Herbert William Armes on May 29, 1971. She was a member of First United Presbyterian Church of the Covenant where she was active in the music ministry (choir, soloist, and bell choir) and served as a deacon and elder. She also taught voice and piano lessons privately and with the McDowell High School Center for the Performing Arts. Sharon also sang with the Erie Chamber Singers and the Erie Symphonic Chorus. She was active with Erie County Koinonia (#36) and was the Prayer Team Leader for the Erie Footsteps Community for several years.
Sharon was a resident of Millcreek Township and a homemaker, but also worked at the family business (Armes Doughnuts), as a teacher aide at Ridgefield Elementary, in the business office of Millcreek School District, and volunteered as the PTA Treasurer, Reflections Arts Contest Coordinator (Ridgefield), and was an active member of the McDowell Band Aides. She enjoyed doing many activities with her two sons who both became Eagle Scouts, elders in their churches, and have careers in the entertainment arts. These traditions are carried on by her grandchildren who include a music major, an artist and dancer, a horn player and photographer, and a show choir singer; all four are also Scouts (including one Eagle Scout).
Survivors include her husband, Herbert William Armes, two sons: Alan William, wife Deborah Joy (Brown), Los Angeles; and Brian William, wife Stephanie Elaine (Pashby), Seattle; four grandchildren: Brayden, Aubrey, Rethy, and Willian Armes; one sister: Susan, husband David Conrad, Cincinnati, OH, and two nieces, Kimberly Conrad and Kristin, husband James "Cubbie" McCrory; one brother: Willan, wife Candace, Minor, Carolina Shores, NC, and one nephew, Thomas, wife Jill, Minor; Sister-in-Law Arlene, husband Richard Bardsley, and two nephews, Michael and Kyle, wife Kristina, Bardsley; Brother-in-Law Edward L. Armes; and many cousins. She is preceded in death by her parents and nephew, Jeffrey Stephen Minor.
The family would like to thank the staff, caregivers, nurses, and doctors of Niagara Village, Stairways Behavioral Health, LECOM Rehabilitation, UPMC Hamot, and Millcreek and EmergyCare Paramedics for their services, care, and aid to Sharon in ways her family could not.
Calling hours will be at the Dusckas-Martin Funeral Home and Crematory, Inc., 4216 Sterrettania Rd., Erie, PA 16506, on Friday, October 25, 2019, from 2PM-5PM and 7PM-9PM. A Memorial Service will be held at Dusckas-Martin on Saturday, October 26, 2019, at 10AM. Rev. Dick Page, Pastor of Senior Adults at Grace Church will preside. Burial will be in a family plot in Hope Cemetery, Wellsburg, PA.
In lieu of flowers, memorials can be made in Sharon's name to the Houghton College Music Department, c/o Houghton College, Office of Advancement, 1 Willard Avenue, Houghton, NY 14744.